Ref
:
35411
Type
:
Maquette
Scale
:
1/35
Subject
:

German Army Truck V3000S
A kit from the brand ICM : the "V3000S (1941production), German Army Truck".
History:
Modern warfare requires tons of supplies to be brought to front-line units. Without mechanized transport for supplies, military endeavors will quickly deteriorate. No army knew this better than the Nazi Heer during WWII. They decided to standardize all of their trucks to make finding replacement parts easier. The V3000S 3-ton truck was the design they chose. From bullets to bratwursts, these trucks transported everything the Heer used. This kit features detailed engine parts and surface features plus, authentic decals for four German vehicles.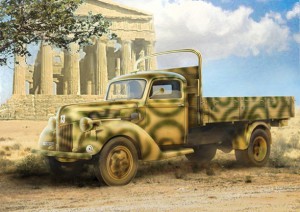 Wait, Searching ICM 35411 for you…

Find kits on eBay:
Search on eBay
Search for what you need, We suggest this but it is you who decide
You can see also :
Related kits:
Views : 1089