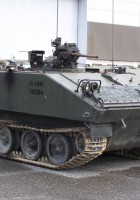 M114

Pays
États-unis
Rôle
Véhicule de combat blindé
Dans le service
1962-73
Construit
Unknow
Galerie de photos d'un M114, The M114 Command and Reconnaissance Carrier is a Vietnam War-era tracked armored fighting vehicle, used by the United States Army. It was manufactured by the Cadillac Division of General Motors in the early 1960s. The M114 was designed to be fast and stealthy. Like the larger M113, it was amphibious and could be deployed by parachute. However unlike the M113 which became one of the most successful armoured vehicles, it quickly proved unsuited to use in the Vietnam war, and was replaced in the reconnaissance role by the M551 Sheridan light tank. By 1973, it had been branded a failure and retired by the US Army, but some released as surplus continue to be used by police departments.
Source: M114 sur Wikipédia
Attendez, la Recherche M114 photos pour vous...

M114 armored fighting vehicle
Photographe
Unknow
Localisation
Unknow
Photos
199
Attendez, la Recherche M114 pour vous...

Liées kits:
Trouver des kits sur eBay:
Recherche sur eBay
À la recherche de ce dont vous avez besoin, Nous vous suggérons de cela, mais c'est vous qui décidez
Vous pouvez voir aussi :
M114 Walk Around
Photographe
Vladimir Yakubov
Localisation
Mott's Musée Militaire
Photos
86
M114A1 Walk Around
Photographe
Vladimir Yakubov
Localisation
Jacques Littlefield Collection
Photos
105
Vous pouvez commenter ici :
M114 véhicule de combat blindé – Promenade Autour à partir de r/NetMaquettes
Vues : 1624
Rechercher par:
m114
m114 walkaround
m 114 armored recon vehicle model
walk around pr xix
veiculo M114
transporter m114
tank m-114
photos véhicule blindée typhon
M728 Vietnam
M114装甲战车
m114 transporte blindado ee uu
M114 transporte blindado
M114 Armored Vehicle
m114 armored fighting vehicle
m114 armed vehicle
www xix naeet