Master Box

Ref
MB3582
Tüüp
Sõjalise miniatuurid
Skaala
1/35
Teema

Auto-Remont Meeskond
Mudel brändi Master Box komplektis: Auto-Repair Crew – Master Box MB3582.
Sisu : This kit is a new interpretation of old kit MB 3560 "German Motorcycle Repair Crew" so if you missed out the first time this can be used on a few different vehicles. Earlier this kit was released together with motorcycle, and correspondingly it was very expensive. As these figures were projected initially as universal and they are suited for any type of ground technique well and also in connection with that lately a lot of soft skin vehicles in 1/35 scale MasterBox have released these figures separately in a new box that make them available at a great price and suitable for dioramas with any type of automobile or armour technique.
Wait, Searching Master Box MB3582 for you…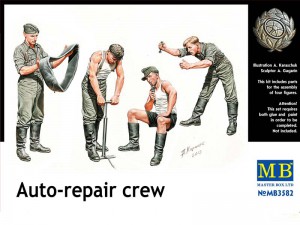 Wait, Searching Auto-Repair Crew for you…

Tiger maintenance
ATS working on a Churchill tank at a Royal Army Ordnance Corps Depot
Sherman undergoing an engine replacement
Engine Maintenance on a Panzer IV
Sturmgeshütz III Ausf. F having its 75mm StuK 40 L/43 replaced
Pz IV , 1939, Polska
Jeep Fixin'
A German Panzer crew attempt to restore their Pz.Kpfw. IV
Universal Carrier, Catania, Italy
Seotud komplektid:
Leia komplektid kohta eBay:
Otsi eBay
Otsida, mida sa vajad, soovitame kuid see on teile, kes otsustab
Näete ka :
Vaatamisi : 486
Leida:
master box repair crew
Kfz 2
マスターボックス 3582
MASTER BOX Artikelnummer: MB3582
mb3582
tristar panzercrew
ww2 モンテカッシーノ ジープ
マスターボックス ジオラマ
TIGER 1#mode=detail&index=834&st=31713
sdkfz2
reparation sdkfz 10
master box 1/35 tank repairmen 価格
masterbox tracks
masterbox german motorcycle repair crew
Kapaszkod
88mm shell
1/35 マスターボックス
1/35 MASTER BOX #3531 - Sd Kfz 2 Type 170VK German military radio car WW II era