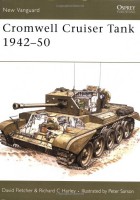 Kalakotkas Kirjastamine

Auteur

David Fletcher

Langue
Anglais
Teema

Cromwell Cruiser Tank 1942-50

Relié

48 pages

ISBN-13

978-1841768144
Book description : For most of World War II, British tank development remained faithful to the design philosophy inaugurated during World War I. Experiences in North Africa highlighted flaws in this basic design, however, and the General Staff identified the need for a new heavy cruiser that could combine speed and manoeuvrability with increased armour and armament. The Cromwelli Cruiser tank was designed as a result and soon proved itself one of the fastest and most successful tanks deployed by the Allies during World War II. This book details the design and development of the Cromwell and its many variants, from its introduction at D-Day, through its many successes in the final year of World War II and beyond.
Publisher comments : The unrivalled illustrated reference on fighting vehicles, transport and artillery through the ages. Each volume is illustrated throughout, making these books uniquely accessible to history enthusiasts of all ages.
Wait, Searching David Fletcher for you…
Wait, Searching Cromwell Cruiser Tank for you…
Näete ka :
Find items about "tank Cromwell" on AliExpress:
Vaatamisi : 301
Leida:
танк-кромуел
デヴィッド フレッチャー 戦車
мк-7 кромуел
танка Кромуел
танкьт кромуел истории