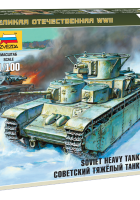 Ref

6203

Geben
Model kit
Skala
1/100
Thema

Soviet heavy tank T-35
Ein Modell der Marke Zvezda das kit: Soviet heavy tank T-35 – Zvezda 6203.
The T-35 was a Soviet multi-turreted heavy tank of the interwar period and early Second World War that saw limited production and service with the Red Army. It was the only five-turreted heavy tank in the world to reach production but proved to be slow and mechanically unreliable. Most of the T-35 tanks still operational at the time of Operation Barbarossa were lost due to mechanical failure rather than enemy action.
Warten Sie, Suche Zvezda 3646 für Sie...

Wait, Searching Soviet heavy tank T-35 for you…

Sie können siehe auch :
Views : 1086