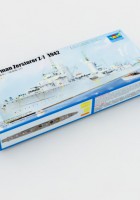 Ref
0

5793

Geben
Model kit
Skala

1/700

Thema

German Destroyer Z-7 1942
Ein Modell der Marke Trumpeter das kit: GGerman Destroyer Z-7 1942 – Trumpeter 05793.
Features : Hull -slide-molded upper hull and lower hull -Deck w/fine detail -Either waterline or full-hull version can be assembled -Phote Etched parts for mast, stand etc.
Z-7 destroyer belongs to 1934A type, also known as the Z5 calss, launched in July 16, 1936.Entered service in September 9, 1937.The destroyer from 1934 type design lesson modified ship host design and improve seakeeping, accelerated construction of simplified design improved, so some ships and even 1934 synchronism service, but used only to sea firing old gun, in the total performance cannot be compared and the British destroyer.Fighting mainly used as minelayer use.The ship finally in May 2, 1942 by HMS Edinburgh sunk.
Source: Trumpeter
Wait, Searching Trumpeter 05793 for you…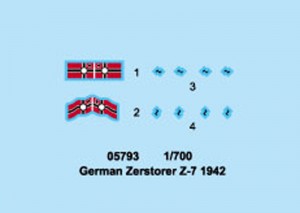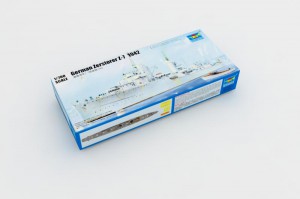 Wait, Searching German Destroyer Z-7 for you…

Sie können siehe auch :
Find items about "destroyer" on AliExpress (c):
Views : 896