Ref
46501
Serie
World of Warships
Skala
1/700
Thema

German Battleship Bismarck
THE BOX CONTAIN: 1 MODEL KIT – 1 LIQUID CEMENT – 1 SHIP GUIDE – 1 WALL POSTER (29,7x42cm) – WORLD of WARSHIPS DECALS – 3 INVITE CODES – 1 BONUS CODE
Based on the Bayern class of battleships from WWI, the Bismarck was the pinnacle of German heavy ship development- and probably the best known German ship of World War II. Laid down in 1936, Bismarck was launched in February 1939 and its outfitting proceeded quickly in the shadow of impending war. Even so, Bismarck missed the beginning of the war and the great offensive effort of the Kriegsmarine (KM) during the invasion of Norway. Commissioned in August 1940, Bismarck departed swiftly for sea trials which lasted until the end of the year. With Bismarck's sister ship, Tirpitz, nearing completion, a grand sortie of all the KM heavy units was planned for 1941, with the goal of disrupting British convoys in the Atlantic an expansion on the previous Operation Berlin. However, it was quickly found that the Tirpitz would be delayed and other ships were unavailable. As a result, the Bismarck departed on 19 May, 1941, for its only combat sortie escorted only by a heavy cruiser, the Prinz Eugen.
Quelle: Italeri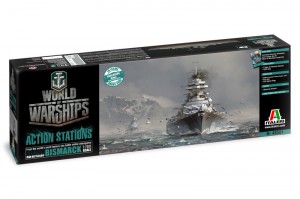 Warten Sie, Suche ITALERI 46501 für Sie...

Finden Sie Kits bei eBay:
Suchen bei eBay
Suchen Sie nach dem, was Sie brauchen, Wir schlagen dies vor, aber Sie sind es, die entscheiden
Warte, Suche nach World of Warships für dich...

Sie können auch sehen:
Zugehörige Kits:
Views : 2471