Ref
2716
Geben
Model kit
Skala
1/48
Thema

EA-18G Growler
Ein Modell der Marke
ITALERI
das kit
EA-18G Growler – ITALERI 2716
. The
Boeing E/A-18 G Growler
was designed to meet a specific need for the U.S. Navy: have a specialized electronic warfare aircraft to replace the now dated, both for avionics performance, Grumman EA-6B Prowler. The Growler is directly derived from the two-seater fighter F/A-18 F Super Hornet aboard which retains substantially all the aerodynamic characteristics. The two General Electric engines Growler to provide a top speed of mach 1.8, and performance in line with the planes that must ensure that support. The crew consists of the pilot and, in tandem, the WSO (Weapon System Officer). Unlike the F/A-18 is not equipped with the gun but is capable of carrying in its pylons pod for the disorder radar and electronic warfare, additional tanks, chaff and flare dispenser as well as missiles AIM-120 AMRAAM.
Quelle:

EA-18G Growler von Italeri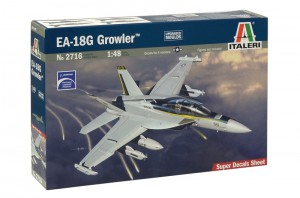 Warten Sie, Suche ITALERI 2716 für Sie...

Finden kits auf eBay:
Suche auf eBay
Suche für das, was Sie benötigen, Wir empfehlen dies, aber es ist Ihr, die entscheiden
Sie können siehe auch :
Verwandte kits:
Views : 901