Eduard

Ref
17030
Geben
Militär Modell
Skala
1/700
Thema

Prinz Eugen 1945 Ätz-set
Ein Modell der Marke Eduard das kit: Prinz Eugen 1945 Photoetched set – Eduard 17030.
Recommended for kit: TRUMPETER Prinz Eugen was an Admiral Hipper-class heavy cruiser, the third member of the class of five vessels. She served with the German Kriegsmarine during World War II. The ship was laid down in April 1936 and launched August 1938; Prinz Eugen entered service after the outbreak of war, in August 1940. The ship was named after Prince Eugene of Savoy, an 18th century Austrian general.
Warten Sie, Suchen, Eduard 17030 für Sie...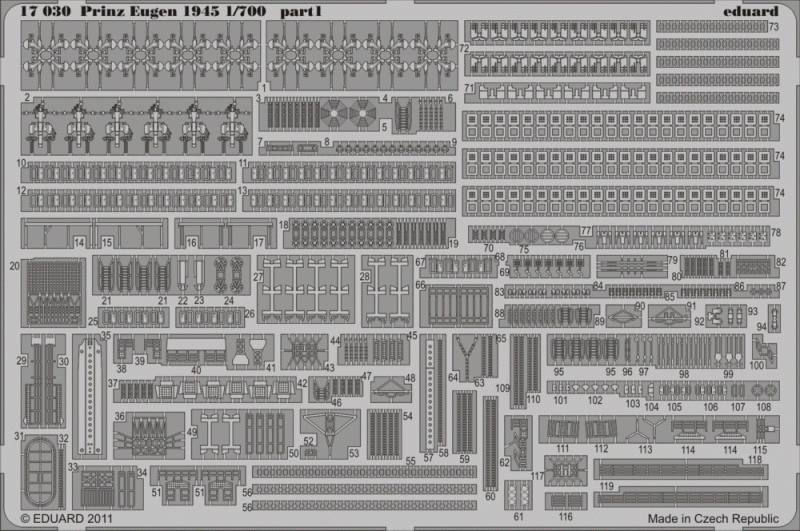 Warten Sie, Suche Prinz Eugen Kreuzer für Sie...
You can see also :
Find items about "Prinz Eugen cruiser" on AliExpress:
Views : 367
Find by:
prinz eugen cruiser
amiral prince eugene
prinz eugen krigsskip
Prinz Eugen
phtodecoupe prinz eugen
laivas prinz eugen
german cruiser printz eugen photos
eduard prinz eugen set
eduard prinz eugen
eduard 17030
プリンツオイゲン エッチング タミヤ