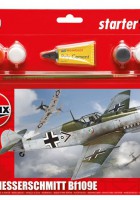 Ref
A55106
Geben
Modell
Skala
1/72
Thema

Messerschmitt Bf109E
Ein kit der Marke Airfix der Satz : Messerschmitt Bf109E – Airfix A55106. The Bf 109E war einer der ersten, die wahren Kämpfer der Neuzeit und war die Luftwaffe den wichtigsten bomber-Eskorte während der Battle of Britain. Nachdem einige spektakuläre Erfolge zu Beginn des Krieges fand er seinen wichtigsten Herausforderer der RAF Hurricane und Spitfire.
Quelle: Messerschmitt Bf109E auf Airfix
Warten Sie, Suche Airfix A55106 für Sie...

Warten Sie, Suche Messerschmitt Bf109E für Sie...

Verwandte kits:
Messerschmitt Bf 109E-4
Airfix
A50176
1:24
Full kit
Clic für die Suche
Finden kits auf eBay:
Suche auf eBay
Suche für das, was Sie benötigen, Wir empfehlen dies, aber es ist Ihr, die entscheiden
You can see also :
Messerschmitt Bf109E – Airfix A55106 aus NetMaquettes
Aufrufe : 850
Find by:
maquettes airfix
A55106
airfix messerschmitt bf109e
review me-109 1/72 airfix set A55106
airfix messerschmitt 109
airfix 1/48 109 trop review
me109e4 walkaround
me-109 1/72 A55106 airfix review
1:72 starter set airfix a55106
airfix me109 1/24 review
airfix me 109 starter
airfix me 109 e new kit 1/72
ハセガワMe109E4
1/32 Bf109E-7 Trop
airfix bf 109e3 1/72
airfix bf 109e-3 starter set review
AIRFIX A55106
airfix 1/72 messerschmitt bf 109 e-3 starter set
1/72 hobbyboss G-6 review
airfit messerschmitt bf 109e