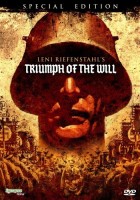 Triumph of the Will
Leni Riefenstahl
Genre : Documentary, War
문제:
28/03/2006
Producer :
Leni Riefenstahl
Writer :
Leni Riefenstahl, Walter Ruttmann
스튜디오:
Synapse Films
기간:
120
국가:
독일
언어:
German, English, Spanish, Italian
언어:
en
Subtitles :
영어
디스크:
나
미디어:
DVD
기능:
Black and White, Special Edition
비디오 형식은:
NTSC
사운드:
Dolby Digital 2.0 Mono
지역:
나
IMdB:
00
25913
드:
0
654930305294
주연:
Adolf Hitler, Hermann Goering, Rudolf Hess, Werner von Blomberg, Werner von Fritsch
Tags :
Hitler, Rally, Nazi, Propaganda, Third Reich, Nuremberg Germany, Nazi Party, Propaganda Film, Totalitarian State, Procession, Montage, Salute, Nazi Flag, Military, Public Domain, Swastika, Eagle, Cloud, Lebensraum, Military Official, Banner, Heil Hitler, Title Directed By Female, Wehrmacht, Controversy, Spade, Hitlerjugend, Night, Speech, Motorcycle, Torch, Labor, Shovel, Bathing, Parade, Government Official, Flag, Nazi Uniform, Camping, Year 1935, Nazism, Motorcade, Nazi Propaganda, Nazi Rally, Nazi Germany
요약:
Leni Riefenstahl directed this chilling documentary of the sixth Nazi Party Congress in 1934. This intense digitally remastered presentation details how the Nazi party developed strong propaganda and attempted to sell their ideas to German leaders. 1936/b&w/107 min/NR.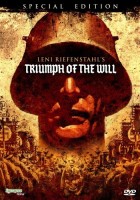 Triumph of the Will is one of the most important films ever made. Not because it documents evil–more watchable examples are being made today. And not as a historical example of blind propaganda–those (much shorter) movies are merely laughable now. No, Riefenstahl's masterpiece–and it is a masterpiece, politics aside–combines the strengths of documentary and propaganda into a single, overwhelmingly powerful visual force. Riefenstahl was hired by the Reich to create an eternal record of the 1934 rally at Nuremberg, and that's exactly what she does. You might not become a Nazi after watching her film, but you will understand too clearly how Germany fell under Hitler's spell. The early crowd scenes remind one of nothing so much as Beatles concert footage (if only their fans were so well behaved!). Like the fascists it monumentalizes, Triumph of the Will overlooks its own weaknesses–at nearly two hours, the speeches tend to drone on, and the repeated visual motifs are a little over-hypnotic, especially for modern viewers. But the occasional iconic vista (banners lining the streets of Nuremberg, Hitler parting a sea of 200,000 party members standing at attention) will electrify anyone into wakefulness. –Grant Balfour
으로 찾기:
MAQUETTES TRIUMPH DES WILLENS
1934 propaganda film reziserka nemecko
controverse triomphe de la volonté
Leni RafenstahMorgan Fairchild photos
leni riefenstahl triumf vůle
maquette triumph des willens