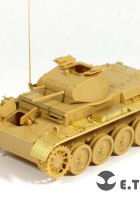 Ref
E35-107
Type
Photo-cut -
Scale
1/35
Description

A set of photodécoupes of the Pz.Kpfw.II Ausf.D1.
A set of 2011 brand E. T. Model the kit : "WWII German Pz.Kpfw.II Ausf.D1".
Histoire: The Panzerkampfwagen II ( PzKpfw II ) or Sd. Kfz. 121 was a tank produced in germany. As the PzKpfw I, it was designed as an interim model, pending tanks such as the PzKpfw III or the PzKpfw IV. These two types of vehicles were intended to provide equipment training for crews of the Panzerwaffe, in order to develop the tactics of the future Blitzkrieg. However, the delay in the production of real tanks forced the Germans to use them massively at the beginning of the Second world War and it was only from 1941 that they were progressively withdrawn from the front lines.
The PzKpfw II remained, however, long been an important vehicle in the arsenal of the Wehrmacht, with a derivative of recognition and as a chassis for self-propelled guns like the Marder II and the Wespe. It had a flight crew member more than the Panzer I, a radio operator, also in charge of the reloading of the automatic cannon of 20 mm.
Source: Wikipedia
Wait, Searching E. T. MODEL E35-107 for you...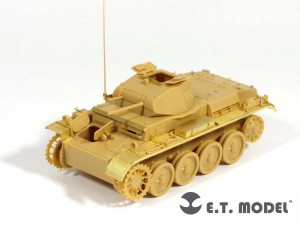 Wait, Searching Pz.Kpfw.II Ausf.D1 for you...
Panzer II Luchs 4. Panzerdivsion
Sd.Kfz. 121 Pz.Kpfw. II (Panzerkampfwagen II) Ausf. C
Ladungsleger II, engineer vehicle based Pz.Kpfw.II
PzKpfw II emplazado en una posición defensiva. La ametralladora coaxial ha sido desistalada.
Disabled Panzerkampfwagen II Ausf. L "Luchs", a light reconnaissance tank with the Schachtellaufwerk overlapping/interleaved road wheels (the same type as in the Panther and Tiger series), the last version to see production of the Panzer II.
Column of tanks Pz.Kpfw.II 3rd Armored Division Wehrmacht Afrika Korps follow the highway Via Balbo
Find items about "Pz.Kpfw.II" on AliExpress (c):
Views : 293
Find by:
foto panzer4
вермахт википедия
tasca 1 24 german pz kpfw ii ausf f
Pz BfWg 38(t)
panzer II tamiya
Pz Kpfw II Ausf D
Pz II D
Panzer Tracts 5-4
panzer4 1/35
ドイツii号戦車
nemski prewozni sredstwa ot ww ii
model Pz II Luchs 1:35
military model džip
me 109 f4 walk around
marder north africa
jeep willys normandia walkarounds
ICM Panzer II D
foto panzer 1
foto di panzer4 f2 in nordafrica
armado maqueta tanque 2gm model kit fotos