Ref
35155
Geben
Gepanzertes Fahrzeug
Skala
1/35
Thema

AEC Mk.II Armoured Car
Ein Modell der Marke
MiniArt
das kit:
AEC Mk.II Armoured Car – MiniArt 35155
.
AEC Armoured Car
is a series of heavy armoured cars built by the Associated Equipment Company (AEC) during the Second World War. The first example was demonstrated in early 1941, and an order was placed in June of that year. The first version carried a Valentine Mk II turret with 2 pounder gun. Vehicles of later variant designs carried heavier armament. Mk II version has heavier turret with a 6 pounder gun, redesigned front hull, 158 hp diesel engine. The weight of Mk II is 12.0 t.
Mk II und Mk III Gepanzerte Fahrzeuge
wurden im kontinentalen Europa. Produktion der AEC armoured car Marken aufgehört nach 629 produziert worden. Die Mk II / Mk III nahm Teil an den kämpfen in Europa mit britischen und britisch-indischen Armee-Einheiten. Im Jahre 1944 einen Stapel von AEC armoured cars senden war in Jugoslawien für den Einsatz von Partisanen, übertragen Autos verwendet wurden, mehr als 10 Jahre.
Modell details: ·Highly detailed model ·487 plastic parts ·44 PE parts ·Decals are included ·Full-color instruction ·All New Tooling. Up-to-date technology using sliding moulds. ·Fully detailed interior ·Highly detailed engine compartment ·Engine is accurately represented ·Fighting compartment is truly reproduced ·Crews vision periscopes with clear plastic parts ·Driving compartment interior is fully detailed and correctly done ·All doors and hatches can be assembled open or closed ·Slide-molded tire made by 1 detail in plastic
Quelle:Miniart
Warten Sie, Suche MiniArt 35155 für Sie...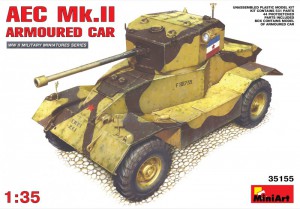 Warten Sie, Suche AEC Mk.II Armoured Car für Sie...
You can see also :
Find items about "MiniArt" on AliExpress:
Views : 214
Find by:
aec mkii armoured car miniart britmodeller
AEC Mk II
miniart 35155
aec miniart
miniart aec
aec autoblindo
armored car mk
Obrněné auto Humber Mk I
MiniArt 36032 DIORAMA WITH BARN
obrněný buldozer
plastové obrněné auto
auto blindée aec
armoured car mk II
aec armoured car
AEC Mk I ARMOURED CAR
AEC MK I
AEC blindé
aec armoured car mk ii 3d
aec armoured car miniart
aec armoured car 1/35