Ref

35155

Type
Pansret Bil
Skala
1/35
Emnet

AEC Mk.II Armoured Car
En modell av merkevaren
MiniArt
settet:
AEC Mk.II Pansret Bil – MiniArt 35155
.
AEC Armoured Car
is a series of heavy armoured cars built by the Associated Equipment Company (AEC) during the Second World War. The first example was demonstrated in early 1941, and an order was placed in June of that year.
The first version carried a Valentine Mk II turret with 2 pounder gun. Vehicles of later variant designs carried heavier armament. Mk II version has heavier turret with a 6 pounder gun, redesigned front hull, 158 hp diesel engine. The weight of Mk II is 12.0 t.
Mk II and Mk III armored cars
were used on continental Europe. Production of all the AEC armoured car marks ceased after 629 had been produced. The Mk II / Mk III took part in the fighting in Europe with British and British Indian Army units. In 1944 a batch of AEC armoured cars was send into Yugoslavia for use by partisans, transferred cars were used more than 10 years.
Model details:
·Highly detailed model
·487 plastic parts
·44 PE parts
·Decals are included
·Full-color instruction
·All New Tooling. Up-to-date technology using sliding moulds.
·Fully detailed interior
·Highly detailed engine compartment
·Engine is accurately represented
·Fighting compartment is truly reproduced
·Crews vision periscopes with clear plastic parts
·Driving compartment interior is fully detailed and correctly done
·All doors and hatches can be assembled open or closed
·Slide-molded tire made by 1 detail in plastic
Source:Miniart
Wait, Searching MiniArt 35155 for you…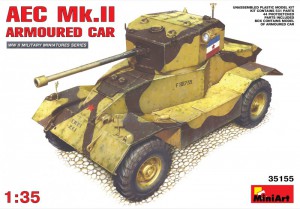 Wait, Searching AEC Mk.II Armoured Car for you…
An M8 armored car, captured by the Germans and put into service with Panzerbrigade 111.
Skoda Pa 2 "zalva" armored car
BA-64B (1)
Eland 90 Mk.7 (2)
A flood of Russian armored cars move toward the front, on October 19, 1941
Two Canadian troops pause to get directions from Italian partisans near the village of Bagnacavallo sometime in Jan 1945. The young lady is armed with the good ole Thompson SMG. The armored car is a Dingo Mk I made in Australia (the Canadians called it the Lynx).
Find items about "MiniArt" on AliExpress:
Visninger : 142
Søk etter:
aec mkii armoured car miniart britmodeller
AEC Mk II
miniart 35155
aec miniart
miniart aec
aec autoblindo
armored car mk
Obrněné auto Humber Mk I
obrněný buldozer
auto blindée aec
plastové obrněné auto
armoured car mk II
aec armoured car
AEC Mk I ARMOURED CAR
AEC MK I
AEC blindé
aec armoured car mk ii 3d
aec armoured car miniart
aec armoured car 1/35
vyzbroj dodge M37