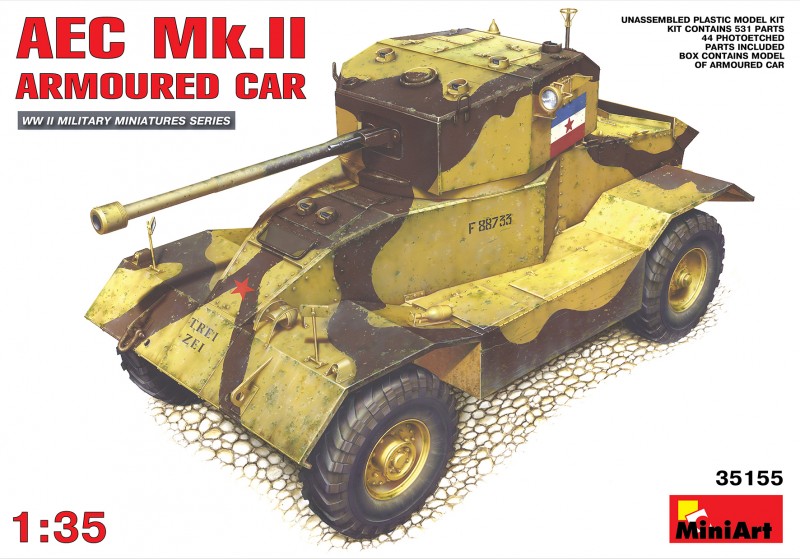 Ref
35155
Typ
Pansarbil
Skala
1/35
Ämne

AEC Mk.II Armoured Car
En modell av varumärke
MiniArt
kitet:
AEC Mk.II pansarbil – MiniArt 35155
.
AEC pansarbil
is a series of heavy armoured cars built by the Associated Equipment Company (AEC) during the Second World War. The first example was demonstrated in early 1941, and an order was placed in June of that year. The first version carried a Valentine Mk II turret with 2 pounder gun. Vehicles of later variant designs carried heavier armament. Mk II version has heavier turret with a 6 pounder gun, redesigned front hull, 158 hp diesel engine. The weight of Mk II is 12.0 t.
Mk II och Mk III bepansrade bilar
användes på kontinenten. Produktion av alla AEC bepansrade bil märken upphörde efter 629 hade producerats. Mk II / Mk III deltog i striderna i Europa med Britterna och Brittiska Indiska Armén enheter. 1944 ett parti av AEC bepansrade bilar var sända till Jugoslavien för användning av partisaner, bilar användes för mer än 10 år.
Modell info: ·Highly detailed model ·487 plastic parts ·44 PE parts ·Decals are included ·Full-color instruction ·All New Tooling. Up-to-date technology using sliding moulds. ·Fully detailed interior ·Highly detailed engine compartment ·Engine is accurately represented ·Fighting compartment is truly reproduced ·Crews vision periscopes with clear plastic parts ·Driving compartment interior is fully detailed and correctly done ·All doors and hatches can be assembled open or closed ·Slide-molded tire made by 1 detail in plastic
Source:Miniart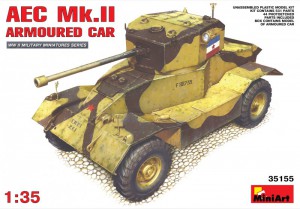 Wait, Searching MiniArt 35155 for you…

Hitta kit på eBay:
Sök på eBay
Sök efter vad du behöver, Vi föreslår detta, men det är du som bestämmer
Du kan också se :
Relaterade kit:
Views : 550