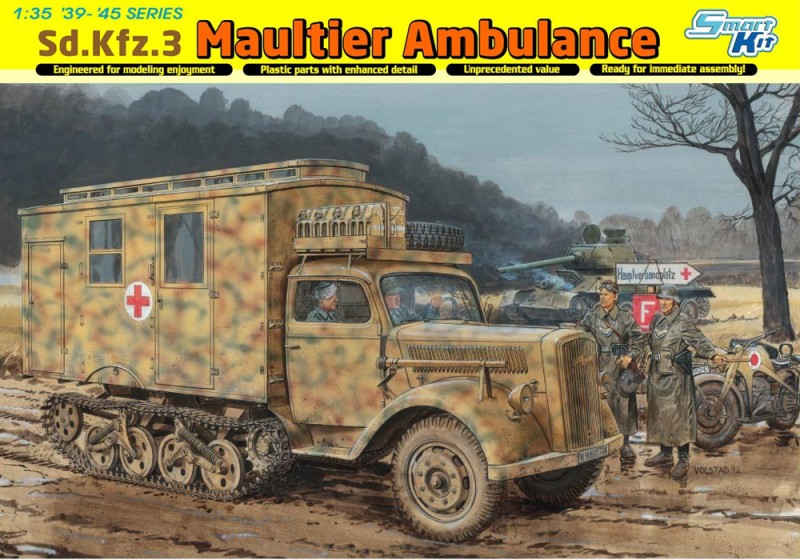 Referens
6766
Typ
1/35 Andra världskrigets militär
Skala
1/35
Ämne

Sd.Kfz.3 Maultier ambulans
En modell av varumärket Drakmodell satsen : Sd.Kfz.3 Maultier Ambulans – DML 6766
Brand new Maultier Ambulance rendered w/fine detail / Spare wheel mounted on cab roof-rack Side doors and rear doors can be assembled open/closed / Footstep for side door can be assembled up/down Rear access steps can be assembled stowed up/positioned down / Ventilator can be optionally assembled Two types of blinds provided / Stretcher racks provided Stretchers can be fabricated in various configurations / Realistic storage cabinet in interior Detailed seats included / Toolbox included Stretcher produced w/crisp detail / Realistic engine hood formed from multiple parts w/louver detail Detailed radiator cover w/filler cap / Accurately shaped front fenders Side-molded engine hood frame / Two options for door handles can be assembled Detailed dashboard and cab interior / Intricate driver's seat w/realistic cloth pattern Fully detailed chassis / Delicate engine represented Intricate fuel tank mounted on chassis / Sprockets and idler wheels rendered w/accurate detail Realistic road wheels assembled from separate parts / Realistic engine hood covers can be assembled open/closed Cab doors can be assembled open/closed / Includes clear lenses for headlamps and spotlights Delicate wheels w/authentic tire tread pattern / Finely detailed vehicle tools Highly detailed Magic Tracks reproduced / Newly produced optional idler wheels
The 7.1-tonne Maultier, introduced from 1942 onwards, was largely successful although it wasn't quite as mobile as purpose-built halftracks. One interesting variant was a Maultier Ambulance that could be used for battlefield evacuation. Dragon is proud to be the first manufacturer to offer a plastic kit of this unique vehicle!
Källkod: Dragon
Wait, Searching DML 6766 for you…

Hitta kit på eBay:
Sök på eBay
Sök efter vad du behöver, Vi föreslår detta men det är du som bestämmer
...
Relaterade satser:
Views : 843