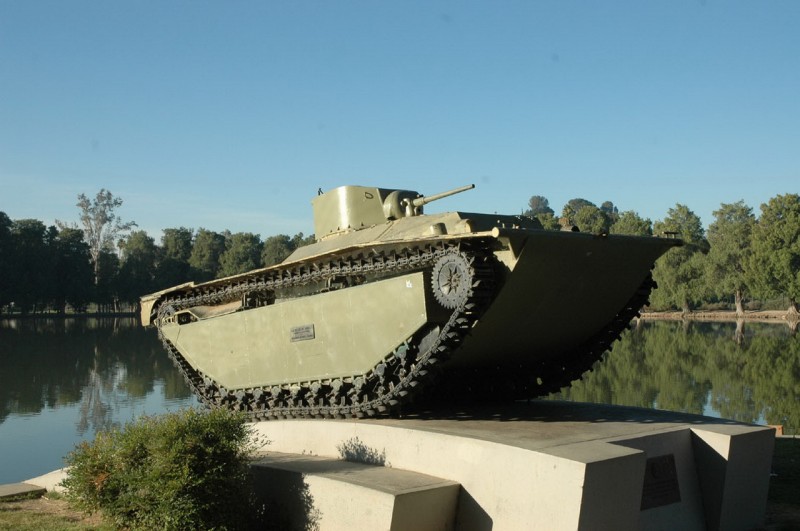 LVTA1

Zemlja
Sad
Tip

Landing Vehicle Tracked
The first infantry support
LVT
. With the first experience of pacific amphibious operations it was clear heavier firepower than the usual .50 cal guns was needed. Based on the LVT-2, A standing for armored, this fire support version had an armored (6 to 12 mm) hull. It was fitted with a turret nearly identical to that of the Light Tank M3, with a 37 mm Gun M6 in an M44 mount, and also carried two rear-mounted machine guns. 509 units produced. The vehicle's hull was covered in 6-12mm of armor plate, and the vehicle was powered by a 262 bhp air-cooled petrol engine. Despite the limitations imposed by the turret it could still carry a limited payload of 1,000 lbs of cargo and had a quite respectable speed of 25 mph or land and 6.5 mph in water, and an operational range of 125 miles on land or 75 miles in water.
Izvor: LVTA1 on Wikipedia
LVTA1 – BUFFALO
Fotograf
Nepoznato
Lokalizacija
Nepoznato
Fotografije
38
Wait, Searching LVTA1 – BUFFALO for you…

Srodni kompleti:
LVT-4 U.S. Water Buffalo Late Type
AFV Klub
1:35
Kompletan komplet
Clic za pretragu
LVT-4 Water Buffalo Walk Around
Fotograf
Nepoznato
Lokalizacija
Nepoznato
Fotografije
29
Pronađi komplete na eBay-u:
Pretraga na eBay-u
Tražimo ono što vam treba, predlažemo vam ovo, ali vi ste ti ti koji odlučujete
...
Views : 2452