Zvono UH-1Y2

Zemlja
Sad
Tip
Komunalni helikopter srednje veličine
Prvi let
20 decembar 2001
Foto-galerija a Zvono UH-1Y, The Bell UH-1Y Venom (also called Super Huey) is a twin-engine, medium-sized utility helicopter, built by Bell Helicopter under the H-1 upgrade program of the United States Marine Corps. One of the latest members of the numerous Huey family, the UH-1Y is called also Yankee, from its variant letter. The UH-1Y was to have been remanufactured from UH-1Ns, but in 2005, it was approved for the aircraft to be built as new. After entering service in 2008, the UH-1Y is currently in full-rate production to replace the USMC's aging fleet of UH-1N Twin Huey light utility helicopters, first introduced in the early 1970s
Izvor: Bell UH-1Y on Wiki
Bell UH-1Y
Fotograf
Cees Hendriks
Lokalizacija
Nepoznato
Fotografije
40
Wait, Searching Bell UH-1Y photos for you...

Srodni kompleti: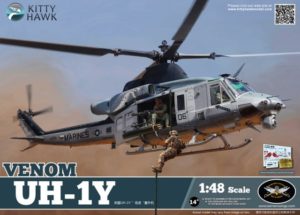 UH-1Y Otrov
Kiti Hok
KH80124
1:48
Kompletan komplet
Clic za pretragu
Pronađi komplete na eBay-u:
Pretraga na eBay-u
Tražimo ono što vam treba, predlažemo vam ovo, ali vi ste ti ti koji odlučujete
...
Više informacija:
The Bell UH-1Y is a twin-engine, medium-sized utility helicopter that is used by the United States Marine Corps. It is an upgraded version of the Bell UH-1N, which was derived from the iconic Bell UH-1 Iroquois, also known as the Huey. The UH-1Y features a four-bladed rotor system, a glass cockpit, a digital avionics suite, and a more powerful engine. The UH-1Y can perform a variety of missions, such as troop transport, medical evacuation, close air support, search and rescue, and special operations. The UH-1Y entered service in 2008 and has been deployed in Iraq and Afghanistan. The UH-1Y is also known as the Venom or the Yankee.
Views : 4619