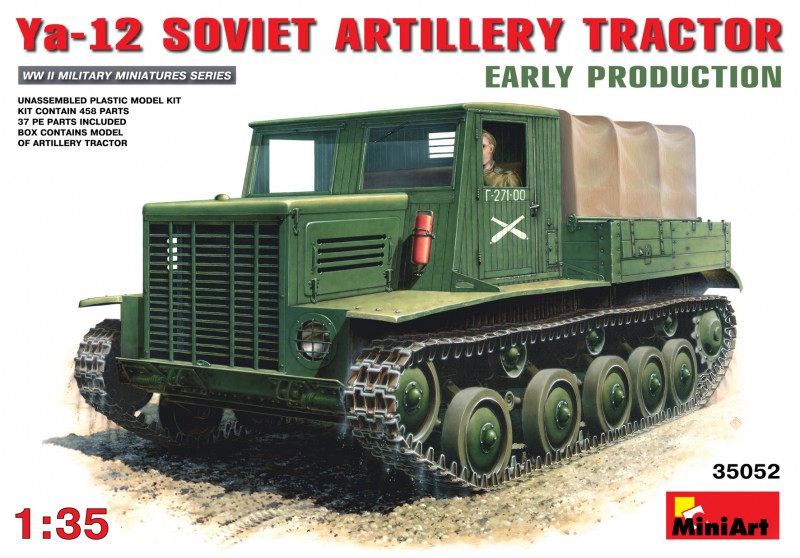 Ref.

35052

Tip
Model
Skali
1/35
Tema

Ya-12 Soviet Artillery Tractor
A new model of the brand MiniArt komplet: «Ya-12 Soviet Artillery Tractor – MiniArt 35052».

Highly detailed model

All New Tooling. Up-to-date technology using sliding moulds

Fully-detailed engine compartment and chassis

Workable tracks

Workable chassis

Authentic wooden texture

458 parts

37 PE parts

Decals included

Full-color instruction

YA-12 – light artillery tractor, which were developed by NATI designers and launched at the Yaroslavskiy Avtomobilniy Zavod YaAZ – Yaroslav Automobile Plant. Firstly was developed YA-11 tractor but Gorkovskiy Avtomobilniy Zavod GAZ – Gorky Automobile Plant could not produced the required quantity of engines for the YA-11 and production had to be stopped. In 1943 Soviet Union had received large quantities of the U.S. made GMC-4-71 4-cylinder 2-stroke 110hp engine under Lend Lease Contract. The availability of these engines allowed for a renewed production of YA-11 design under the new designation YA-12. The serial production of YA-12 started in August of 1943 and till the end of 1943 were produced 285 tractors, till the end of war – 1666. In 1945 Red Army had in the inventory 1270 YA-12 tractors. YA-12 tractors were used for tugging of such guns as 100-mm field guns BS-3, 122-mm corps guns A-19, 122-mm howitzers M-30, 152-mm howitzers ML-20 and 203-mm heavy howitzers B-4. YA-12 artillery tractors were in service of Soviet Army and Czechoslovak Army till the middle of 50's years.
Wait, Searching Ya-12 Soviet Artillery Tractor for you…

Wait, Searching MiniArt 35052 for you…

Pronađi komplete na eBay-u:
Pretraga na eBay-u
Tražimo ono što vam treba, predlažemo vam ovo, ali vi ste ti ti koji odlučujete
Find items about "Artillery Tractor" on AliExpresS :
Možete videti i :
Srodni kompleti:
Views : 1137