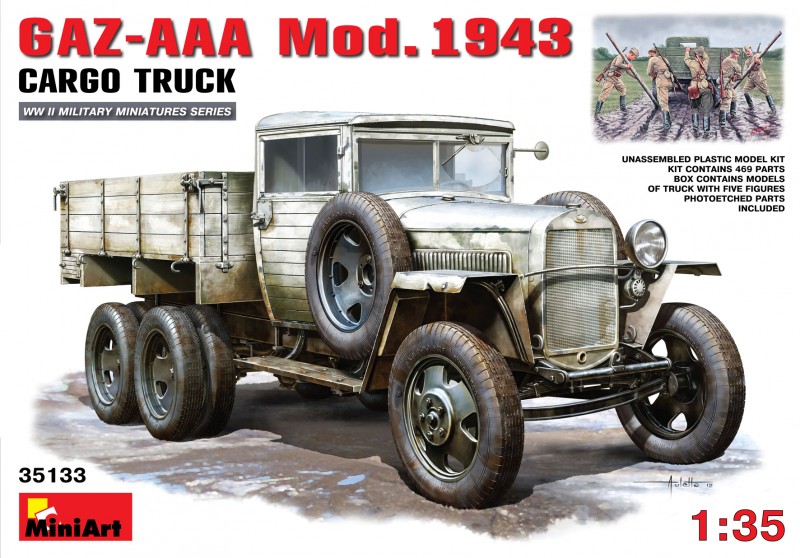 Ref.

35133

Tip
Model
Skali
1/35
Tema

GAZ-AAA Mod. 1943. Cargo Truck
A new model of the brand MiniArt komplet: «GAZ-AAA Mod. 1943. Cargo Truck – MiniArt 35133».
Up-to-date technology using sliding moulds

Highly detailed model

Fully-detailed engine compartment and chassis

Authentic wooden texture

469 parts

43 PE parts

Decals included

5 lifelike Figures

Full-color instruction
GAZ-AAA truck is the triaxial modification of GAZ-AA. American truck Ford-Timken was a prototype for GAZ-AA. During it serial production (1934-1943) were produced 37 373 trucks, during WWII – 9 724 trucks, nonmetering chassis for busses and armoured vehicles. GAZ-AAA trucks were used for transportation of goods, staff and for towage of artillery systems. During pre-war period on the base of GAZ-AAA trucks were produced self-powered machine gun Maxim (4M); during WWII – antiaircraft emplacement with heavy machine gun DShK and with 25mm and 37mm automatic air defense guns.Different special trucks were produced on base of GAZ-AAA chassis such as radio station RSB-F, movable repair shops PARM and PM type A, fuel tanks BZ-38 and BZ-38U, water-oil bowsers BMZ-38, ground starters AS-2 etc. Also armoured vehicles BA-6 and BA-10 were produced on base of GAZ-AAA chassis. Because of military norms, shortage of metal and components during war period was developed and produced simplistic variant of trucks. The differences of wartime trucks were welded wings, simplified cab, bumper and right headlight were missed, brakes were installed only on the rear wheels. Because of the cold winter canvas top and wooden doors were placed into the cab in 1943.
Wait, Searching MiniArt 35133 for you…

Pronađi komplete na eBay-u:
Pretraga na eBay-u
Tražimo ono što vam treba, predlažemo vam ovo, ali vi ste ti ti koji odlučujete
[ae_affiliate_byphil keyword="cargo Truck"] ...
Srodni kompleti:
Views : 937