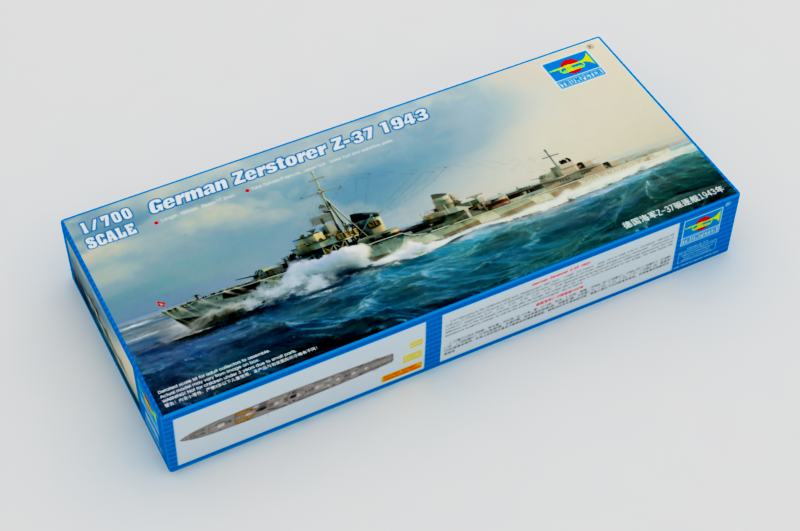 Ref
0

5791

Vrsta
Maquette
lestvica
1/700
predmet

German Zerstorer Z-37 1943
Komplet znamke Trumpeter komplet: «German Zerstorer Z-37 1943 – Trumpeter 05791».
Funkcije : -slide-molded upper hull and lower hull -Deck w/fine detail -Either waterline or full-hull version can be assembled -Phote Etched parts for mast, stand etc.
Z-37 belonging to the 1936A the MOB type, Displacement: 3691 tons ,Length: 127 meters, wide: 12.0 m, draft: 4.62 m, 332. Container: 150mmL/48 C/36 gun 5 37mmL/83 C/30 guns 4, 6 20mmMG L/65 C/30 guns, 533mm torpedo 8, 60 mines, depth charges and four transmitter . Construction of a total of 7, respectively, Z-31, Z-32, Z-33 ,Z-34, Z-37 ,Z-38, Z-39. Basically the same equipment and the 1936A-type appearance, the main difference lies in the increased chimney cap after the bridge, the bridge after the crane to move to starboard on the bridge, the radar below the appearance subject to change, as well as the location bow anti Langban, rely on before.
Wait, Searching Trumpeter 05791 for you…

Poiščite komplete na eBayu:
Iskanje na eBayu
Poiščite, kar potrebujete, predlagamo to, vendar ste vi tisti, ki se odločite
[ae_affiliate_byphil keyword="kriegsmarine"] ...
Povezani kompleti:
Views : 1064