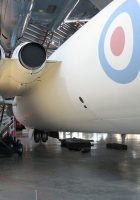 Vickers Pogumen B. 1

Država
Združeno KRALJESTVO
Vrsta
Štiri-jet visoka nadmorska višina bomber
Fotograf
Ondrej Skarka
Opis

Album

71

fotografije sprehod okoli za "Vickers Pogumen B. 1"
Galerija a Vickers Pogumen B. 1, The Vickers-Armstrongs Valiant was a British four-jet high-altitude bomber, once part of the Royal Air Force's V bomber nuclear force in the 1950s and 1960s. It was developed by Vickers in response to Specification B.35/46 issued by the Air Ministry for a nuclear-armed jet-powered bomber. The Valiant was the first of the V bombers to become operational, and was followed by the Handley Page Victor and the Avro Vulcan; it was noticeably less advanced than its counterparts. The Valiant has the distinction of being the only V bomber to drop live nuclear weapons.[2]
Wait, Searching Vickers Valiant B.1 photos for you…

Wait, Searching Vickers Valiant B.1 for you…

Related kits:
Find kits on eBay:
Iskanje na eBay
Search for what you need, We suggest this but it is you who decide
Vidite lahko tudi :
Views : 1129