Ampersand Publishing

Samling
Allied-Axis
Ref
27
Emnet
Dokumentasjon
Emnet

Marder III M
En dokumentasjon signert Ampersand Publishing the book «The Photo Journal of the Second World War No.27 – ALLIED-AXIS 27» .
Innholdsfortegnelse:
Marder III M: Panzerjäger 38(t) für 7.5cm PaK40/3 Ausf. M

Marine Corps Rockets: International Harvester M-2-4 1-ton 4×4

2cm FlaK 38 Antiaircraft Gun and Sonderanhänger 51

A Different Kind of NO: The Mack NO-4 and NO-5
Wait, Searching ALLIED-AXIS 27 for you…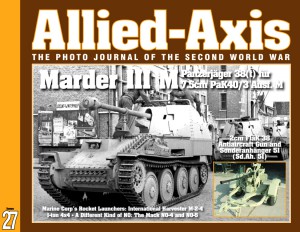 Vente, Søke Ampersand Publisering for deg...
Du kan se også :
Find items about "marder 1/35" on AliExpress (c):
Visninger : 291
Søk etter:
Allied-Axis - The Photo Journal
M20 ArmoredCar Pictures
walkeroud mack-no