Ampersand Publishing

Samling
Allied-Axis
Ref
Tjuesyv
Emnet
Dokumentasjon
Emnet

Marder III M
En dokumentasjon signert Ampersand Publishing boken "Foto Journal of the Second World war Nr 27 – ALLIERTE-AKSEN 27" .
Innholdsfortegnelse:
Marder III M: Panzerjäger 38(t) 7.5 cm PaK40/3 Ausf. M
Marine Corps Raketter: International Harvester M-2-4 1-lyd 4×4
2 cm FlaK 38 Antiaircraft Pistol og en spesiell tilhenger 51
En Annen type NEI: Mack NO-4 NO-5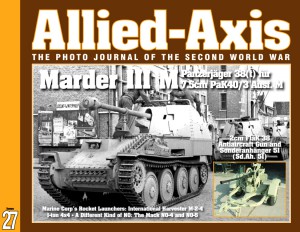 Vent, Søker ALLIERTE-AKSEN 27 for du...

Finn sett på eBay:
Søk på eBay
Søk etter hva du trenger, Vi foreslår dette, men det er du som bestemmer
Find items about "marder 1/35" on AliExpresS :
Du kan se også :
Relaterte kits:
Views : 332