ICM

Subject

le. gl. Einheits-Pkw (Kfz.2)

Echelle
1/35
Réf

35522
A scale model of the la marque ICM : la maquette "le. gl. Einheits-Pkw (Kfz.2) – WWII German Radio Car – ICM 35522".
Einheits-PKW (German for 'unit passenger cars') were supplied to the Wehrmacht between 1936 and 1943 in the three versions Leichter Einheits-PKW, Mittlerer Einheits-PKW and Schwerer Einheits-PKW (light, medium and heavy passenger car). These vehicles were supposed to replace the civilian vehicles previously procured by the Reichswehr with cross-country mobile vehicles that conformed with military requirements while simplifying logistics and maintenance by using standardized components. The program achieved neither of these goals.
Source: Wikipedia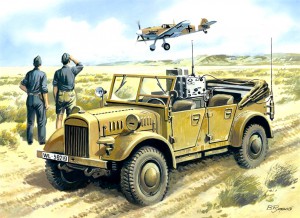 Wait, Searching ICM 35522 for you…

Find kits on eBay:
Search on eBay
Search for what you need, We suggest this but it is you who decide
Find items about "Military Cars" on AliExpresS (c):
You can see also :
Related kits:
Views : 873