AFV Club

Ref

35161

Tyyppi
Malli
Asteikko
1/35
Aihe

M5A1 Stuart Late Type
Malli merkki AFV Club pakki: M5A1 Stuart Late Type – AFV Club 35161.
NEW TOOLING SIDE SKIRTS TOOL BOX. AA GUN SHIELD, ETC. ACCURATELY REORODUCED TURRET (NEW TOOLING). HIGHLY DETALED HULL PARTS. THE KIT PROVIDES 2 TYPRS OF IDLE WHEELS. PRECISION PHOTO-ETCHED PARTS INICLUDED FOR ENHANCED DETALS.
Wait, Searching AFV Club 35161 for you…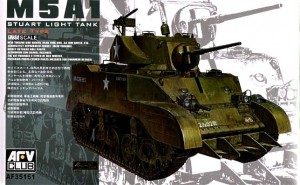 Wait, Searching M5A1 for you…

Näet myös :
Find items about "tank M5A1" on AliExpress:
Views : 384