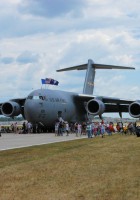 C-17A Globemaster III

Riik
USA
Teema
Sõjaväe transpordilennukite

Code

Douglas c 124

Kirjeldus

Album

61

photos walk-around of a «C-17A Globemaster III»
Photo gallery of a C-17A Globemaster III, The Boeing C-17 Globemaster III is a large military transport aircraft. It was developed for the United States Air Force (USAF) from the 1980s to the early 1990s by McDonnell Douglas; the company later merged with Boeing. The C-17 is used for rapid strategic airlift of troops and cargo to main operating bases or forward operating bases throughout the world. It can also perform tactical airlift, medical evacuation and airdrop missions. The C-17 carries the name of two previous, but unrelated piston-engine, U.S. military cargo aircraft, the Douglas C-74 Globemaster and the Douglas C-124 Globemaster II.
Wait, Searching C-17A Globemaster III photos for you…

Wait, Searching C-17A Globemaster III for you…

Seotud komplektid:
Leia komplektid kohta eBay:
Otsi eBay
Otsida, mida sa vajad, soovitame kuid see on teile, kes otsustab
Näete ka :
Saate kommentaar :
C-17A Globemaster III – Walk Around

alates u/PhilTheNet
Views : 937