Kalakotkas Kirjastamine

Ref

New Vanguard 09

ISBN
9781855323827
Author
Steven J Zaloga
Illustrator
Peter Sarson
A book from Kalakotkas Kirjastamine the book «T-34/76 Medium Tank 1941–45 – NEW VANGUARD 09» .
The T-34 was the most influential tank design of World War 2. When first introduced into combat in the summer of 1941, it represented a revolutionary leap forward in tank design. Its firepower, armour protection and mobility were superior to that of any other medium tank of the period. This superiority did not last long. While the T-34 underwent a series of incremental improvements during 1943, it was being surpassed by new German tank designs, most notably the Panther. This title traces the life of the original T-34 through all its difficulties to eventual success.
Allikas: osprey
Wait, Searching NEW VANGUARD 09 for you…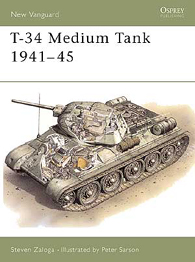 Oodake, Otsides Tank T-34 teile...

Näete ka :
Find items about "t-34 tank" on AliExpress (c):
Views : 377