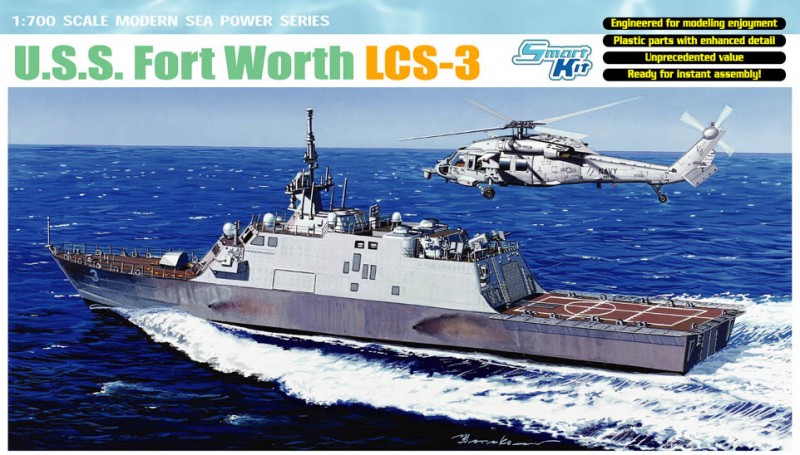 Ref
7129
Topic
Warships
Scale
1/700
Subject

U.S.S. Fort Worth LCS-3
A kit of the brand Dragon Models the kit : U.S.S. Fort Worth LCS-3 – DML 7129
The US Navy (USN) created a revolutionary concept when it listed the requirements for its new Littoral Combat Ships (LCS), naval craft designed to operate in coastal waters against both underwater and surface threats. Two different designs were created by competing American consortiums, with USS Freedom (LCS-1) being the lead ship designed by Lockheed Martin. The second of class is USS Fort Worth (LCS-3), is scheduled for commissioning in September 2012. She is 118.6m long and displaces 3,200 tons. Differences to the lead ship include a lengthened hull to improve speed and reduce fuel consumption, plus enhanced stability measures. State-of-the-art systems mean a crew of less than 50 sailors is required to operate USS Fort Worth.
Dragon has created a fine 1/700 scale plastic model of this ship, accurately capturing the angular lines of the sleek Freedom-class vessel. It's based on the Cyber-Hobby kit of LCS-1, a model that was widely acclaimed. However, this new item required a completely new slide-molded hull and deck because of Fort Worth's increased length. Modelers will find that the well-engineered parts precisely fit together, and as is expected, they can choose to put together either a waterline or full-hull version. With Cyber-Hobby having already produced identically scaled models of LCS-1, LCS-2 and LCS-4, modelers will be able to assemble a small armada consisting of the first four LCS ships ever built!
Wait, Searching U.S.S. Fort Worth LCS-3 for you…

Find kits on eBay:
Search on eBay

Search for what you need, We suggest this but it is you who decide

[ae_affiliate_byphil keyword="USS Fort Worth"] ...
Related kits:
Views : 457