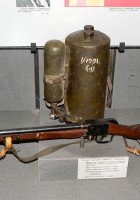 ROKS-3 Flammenwerfern

Land
UDSSR
Geben
Flammenwerfer
Modell

ROKS-3 Flammenwerfern

Thema

Album

13

Fotos walk-around von einem ROKS-3 Flammenwerfern
The ROKS-2 and ROKS-3 were man-portable flamethrowers used by the USSR in the Second World War. The ROKS-2 was designed not to draw attention so the fuel tank was designed to be easy to conceal within a knapsack, and the fuel pipe designed to resemble a rifle. ROKS-3 was a simplified design and had a regular cylindrical fuel tank. The Finnish designation for captured ROKS-2 units was M/41-r. Roks-2 were used, amongst other engagements, during the close-range fighting during the first days of the battle of Kursk in 1943.
Quelle: Wikipedia
Warten Sie, Suche ROKS-3 Flammenwerfern...

Warten Sie, Suche ROKS-3 Flammenwerfern Fotos für Sie...

Verwandte kits:
Finden kits auf eBay:
Suche auf eBay
Suche für das, was Sie benötigen, Wir empfehlen dies, aber es ist Ihr, die entscheiden
You can see also :
Aufrufe : 817
Find by:
ROKS 3
roks
ROKS Flamethrowers
ROKS 3 Flamethrower
Flammenwerfer ROKS-2
ROKS-3 火炎放射
огнемет рокс
roks lanzallamas
roks flammenwerfer
огнемет рокс-3
roks-3
flamewerfer
rok 3 flamethrower
radziecki plazmowy miotacz ognia
radziecki miotacz ognia
miotacz benzyny niemiecki 1941 zdjecia
lángszóró
Flammenwerfer ROKS-3
flammenwerfer roks
рокс 3