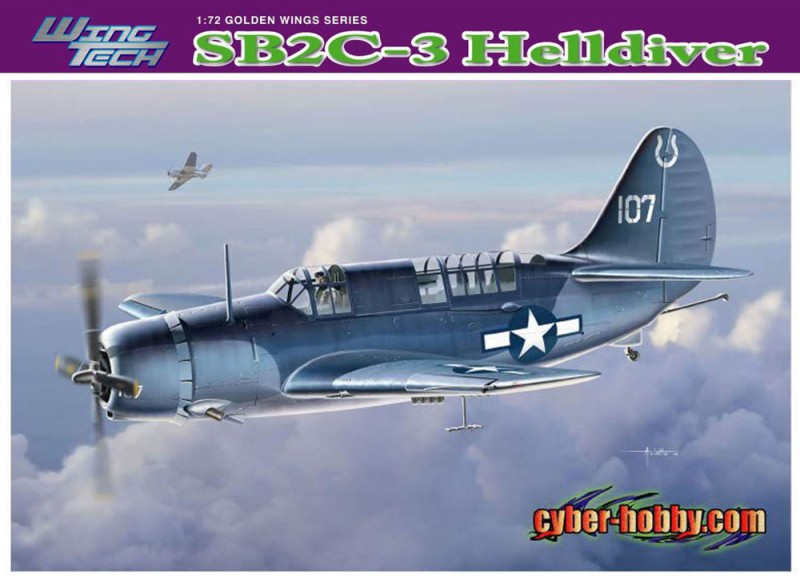 Ref
5059
Type
1/72 Warbirds
Scale
1/72
Topic

SB2C-3 Helldiver
A model of the brand Cyber-Hobby the kit : SB2C-3 Helldiver – Cyber-Hobby 5059.
Features: Intricate SB2C-3 Helldiver w/newly tooled photo-etched dive-brakes Newly designed propeller Ailerons can be assembled in different positions Delicate details molded on wings Wings can be assembled extended/folded Folding-wing mechanism rendered w/fine detail Cockpit interior forms separate drop-in assembly Two 5,000lb bombs included Fully-detailed landing gear compartment Authentic machine gun can be stowed/deployed Realistic engine exhibits delicate detail Detailed cockpit canopy made from crystal-clear parts Cockpit interior details including pilot's seat and control panel Landing gear realistically produced Intricate arrester hook molded on SB2C-3
Cyber-Hobby previously produced its first ever 1/72 scale model kit in its Golden Wings series, a Curtiss SB2C-4 Helldiver. The Helldiver was a carrier-based dive-bomber widely used by the US Navy (USN) during WWII. The twin-seat SB2C was roundly criticized for its handling characteristics, range and reliability, but nevertheless it achieved good results in combat after improvements were made during the course of production. It was in the thick of such battles as Rabaul, the Marianas, the Philippines, Taiwan, Iwo Jima, the Ryuku Islands and Okinawa. One of its strengths was the ability to carry a significant amount of munitions, plus it had an internal bomb bay. Some 7,140 Helldivers were manufactured in total. However, Cyber-Hobby is now pleased to be offering a slightly earlier variant of the Helldiver, an SB2C-3. To improve performance, this type had received a 1,900hp R-2600-20 engine and a four-bladed propeller. Some 1,112 SB2C-3 Helldivers were produced by Curtiss.
Source: SB2C-3 Helldiver on Cybber-Hobby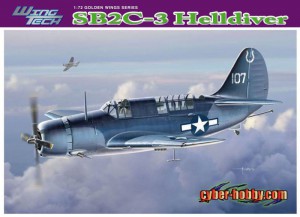 Wait, Searching Cyber-Hobby 5059 for you…

Find kits on eBay:
Search on eBay

Search for what you need, We suggest this but it is you who decide

...
Related kits:
Views : 886