Ref
2517
Type
Orange Series
Scale
1/72
Topic

Jian Ji-2 + Jian Ji-5
A model of the brand
Cyber-Hobby
the kit :
Jian Ji-2 + Jian Ji-5 – Cyber-Hobby 2517
. The MiG-15 and MiG-17 are famous Russian-designed fighters of the Cold War period. With Russian technological assistance, China copied the MiG-17 as the J-5 (Jian J-5) and commenced local production in the 1950s. The J-5 built by Shenyang was a single-seat interceptor based on the MiG-17F Fresco-C, plus China also exported it as the F-5. The People's Liberation Army Air Force (PLAAF) obtained plans for the J-5 in 1955 and the first aircraft flew the following year. Before production ceased in 1969, the PLAAF had received 767 J-5 and J-5A fighters. The J-2, meanwhile, was the Chinese designation for approximately 2,000 Soviet-produced MiG-15 fighters that were imported to serve in the PLAAF from 1950-55. The J-2 was flown widely by China during the Korean War, and the PLAAF only retired its last J-2 examples in 1986. Orange Box is offering a special 1+1 set featuring both a J-2 and a J-5. The two model fighters are built accurately to 1/72 scale, and they perfectly capture the look of the MiG-15 and MiG-17 from whence they are derived. Well-detailed and well-engineered components fit together with pleasing precision. Of course, the set includes appropriate PLAAF decal markings for these two aircraft types that served faithfully in China's early years. And as modelers have come to expect, this useful Orange Box set comes with an extremely reasonable price tag.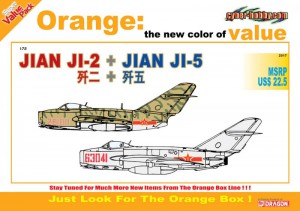 Wait, Searching Cyber-Hobby 2517 for you…

Find kits on eBay:
Search on eBay

Search for what you need, We suggest this but it is you who decide

[ae_affiliate_byphil keyword="MiG-17″] ...
Related kits:
Views : 705