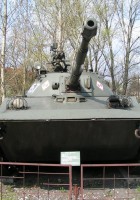 PT-76

Country
USSR
Type
Light tank amphibious
Mass combat
15 tonnes
Gallery photo on a tank PT-76, The PT-76 qui était un char soviétique de la gamme "léger amphibie" fut dans sa catégorie surement le plus répandu. A l'instart de ses homologues l'AMX-13 français et le M113 américain son châssis a été utilisé comme base à de multiples dérivés d'engins militaires. La production du PT-76 started during the year 53 and then this tank has been deeply amended by 59, it will be named PT-76B. Its production (7000 copies of the PT-76 were made) stops in 1963.
Source: PT-76 on Wkipedia
Wait, Searching PT-76 photos for you...
PT-76 – WalkAround
Photographer
Unknow
Location
Unknow
Photos
28
Wait, Searching PT-76 for you…
PT-76
Photographer
Victor Krestinin
Location
The Batey ha-Osef Museum
Description
Album

63

photos walk-around du char PT-76
PT-76 Walk Around
Photographer
Andrei Nikolaev
Location
Inconnue
Description
Album

32

photos walk-around of the PT-76
PT-76 Walk Around
Photographer
Unknow
Location
Unknow
Photos
53
You can see also :
Find items about "Tank PT-76" on AliExpress (c):
Views : 1809
Find by:
PT-76
pt-76 walkaround
PT76
pt-76 b walkaround
tank pt-76b
pt 76 walkaround
PT-76 Tank Walkaround
paper model PT-76
ПТ-76 Walkaround
bison decals T-55
pt-76 walk around
pt-76 b ixo
PT at walk around
1/72 pt-76
czołg pt 76
pt 76 walk around
pt 76 panzer
pt 76 amphibious tank walk-around
pt - 76
btr-50 scale model photos of