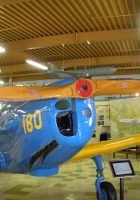 Fairchild PT-19A Cornelli

Riik
USA
Tüüp
Sõjalise õhusõiduki treener
Foto
Randy Ray
Leidke
Travis Air Force Base Muuseum
Kirjeldus
Album

59

fotod walk-around "Fairchild PT-19A Cornell"
Pildigalerii a Fairchild PT-19A Cornelli,
The Fairchild PT-19 (company designation Fairchild M62) is an American Fairchild Aircraft monoplane primary trainer aircraft that served with the United States Army Air Forces, RAF and RCAF during World War II. It was a contemporary of the Kaydet biplane trainer and was used by the USAAF during Primary Flying Training as the introductory pre-solo phase trainer for introducing new pilots to flying before passing them on to the more agile Kaydet. As with other USAAF trainers of the period, the PT-19 had multiple designations based on the powerplant installed.
Allikas: Fairchild PT-19A Cornelli sisse Wiki
Wait, Searching Fairchild PT-19A Cornell Kaydet photos for you…
Wait, Searching Stearman Fairchild PT-19A Cornell for you…
JS-2
Leidke

Aerospace Museum of California, McClellan

Foto
Vladimir Yakubov
Kirjeldus
Album

86

fotod walk-around "Fairchild PT-19A Cornell"
Find items about "trainer aircraft" on AliExpress (c):
Vaatamisi : 365