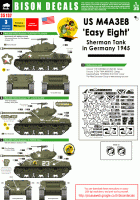 Bison Decals

Ref
BD-35137
Type
Decals
Scale
1/35
A set of decals of the mark Bison Decals the decals "US M4A3E8 'Easy Eight' in Germany 1945" .
Ce char trouve ses origines dans la loi Lend-Lease (prêt-bail) qui permet aux anglais et aux russes de bénéficier de grandes quantités de matériel américain. Les Anglais qui reçurent une grande quantité de Sherman M4 s'aperçurent vite que ce char soutenait la comparaison avec le Panzerkampfwagen IV en termes de blindage mais pas en termes de puissance de feu. Ce problème s'amplifiait encore contre les chars Panzerkampfwagen V Panther et Panzerkampfwagen VI Tiger. De plus les Britanniques bénéficiaient depuis 1942 d'un canon antichar performant, l'Ordnance QF 17 pounder. Il décidèrent donc de monter ce canon sur la châssis d'un Sherman : le Firefly (luciole) était né.
Source: Sherman Firefly on Wikipedia
Wait, Searching Bison Decals for you...

Wait, Searching M4A3E8 Easy Eight for you...

Disguised British "Shermans" on the march. 194
An M4 Sherman wading tank is seen mired in the mud on a a Normandy invasion beach
Extension of medium tanks M-4 "Sherman"
American tank M4 Sherman, wrecked on Iwo Jima
M4A1(76)W from 2nd Armored Division
An M4 Sherman stuck in the volcanic sands
Long barreled Shermans
Sherman undergoing an engine replacement
Sherman M4A2 tank coated with a layer of cemen
Related kits:
Find kits on eBay:
Search on eBay
Search for what you need, We suggest this but it is you who decide
You can see also :
Views : 442
Find by:
bison decals
バイソンデカール
overføringsbilleder
bison matrica
bison decals 1/35 tigers on the west front #35153
decalcomanies char us sherman
calcomanias tiger tank
1 35 13221 academy шерман м4 а3 е8
bison decals 35137
m4a3e8 seconda guerra mondiale
decalomanies
cartamodello maquettes camions
album decalcomanie 1/35
들소마크
BSAデカール
BisonDekaler
bison-decals-1-35-us-m4a3e8-easy-eight-germany-1945-35137
bison-decals
Bison decal
bison decals Cobra King