Waffen Arsenal

Series
Waffen Arsenal
Sujet

Panzerkampfwagen II – Panzer II – Sdkfz.121

Réf
019
Signed documentation Waffen Arsenal "Panzerkampfwagen II - Waffen Arsenal 019" .
The Panzerkampfwagen II ( PzKpfw II ) or Sd. Kfz. 121 was a German-made tank. Like the PzKpfw I, it was designed as a temporary model, waiting for tanks like the PzKpfw III or the PzKpfw IV. Both types of vehicles were intended to provide training gear for The Panzerwaffe crews to develop the tactics of the future Blitzkrieg. However, the delay in the production of real battle tanks forced the Germans to use them massively during the beginning of the Second World War, and it was not until 1941 that they were gradually removed from the front lines. Subsequently, however, the PzKpfw II remained for a long time an important vehicle in the Wehrmacht's arsenal, thanks to reconnaissance derivatives and as a chassis for self-propelled guns, such as the Marder II and the Wespe. It had one more crew member than the Panzer I, a radio operator, also responsible for reloading the 20 mm automatic gun.
Source: Wikipedia
Wait, Searching Waffen Arsenal 019 for you…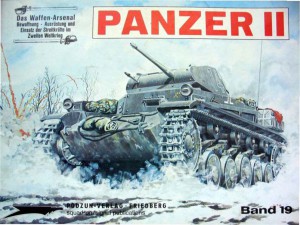 Wait, Searching Panzerkampfwagen II for you…

Views : 547