Waffen Arsenal

Series
Waffen Arsenal
Subject

Panzerkampfwagen II – Panzer II – Sdkfz.121

Réf
0Nineteen
A documentation signed Waffen Arsenal la revue «Panzerkampfwagen II – Waffen Arsenal 019» .
The Panzerkampfwagen II ( PzKpfw II ) or Sd. Kfz. 121 was a tank produced in germany. In the same way as the PzKpfw I, it was designed as an interim model, pending tanks such as the PzKpfw III or the PzKpfw IV. These two types of vehicles were intended to provide equipment training for crews of the Panzerwaffe, in order to develop the tactics of the future Blitzkrieg. However, the delay in the production of real tanks forced the Germans to use it massively during the start of the Second world War, and this is only from 1941 that they were progressively withdrawn from the front lines. Subsequently, the PzKpfw II remained, however, long been an important vehicle in the arsenal of the Wehrmacht, with a derivative of recognition and as a chassis for self-propelled guns like the Marder II and the Wespe. It had a flight crew member more than the Panzer I, a radio operator, also in charge of the reloading of the automatic cannon of 20 mm.
Source: Wikipedia
Wait, Searching Waffen Arsenal 019 for you…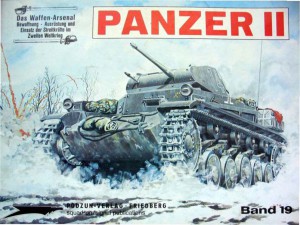 Wait, Searching Panzerkampfwagen II for you…

[AFG_gallery lestags='panzer-ii']
You can see also :
Find items about "Panzerkampfwagen II" on AliExpress:
Views : 377