Ref

35147

Typ
Modell
Skala
1/35
Sujet

L1500A (Kfz.70) German Personnel Car
En modell av varumärke MiniArt kitet: L1500A (Bil.70) Tyska Personal Car – MiniArt 35147.
L1500 A 4×4 and L1500 S 4×2 trucks were developed by Mercedes-Benz Company in 1941. The vehicle was classified same as Steyr 1500A and Horch Typ. The basic type of body became Kfz.70, designed for transporting of 7 person including driver. For bad weather condition the body was equipped with retractable top and canvas panel, which could be settled on doors and sides. Trucks Mercedes-Benz L 1500A with Kfz. 70 were widely used, frequently trucks were as heavy staff cars. Also different bodies were based on L 1500A and L 1500S chassis, particularly fire trucks, radio cars and ambulances were produced on the L 1500A and L 1500S bases. More often for radio cars and ambulances were used 4×2 chassis. L 1500A trucks were produced from June of 1941 till July 1943, were produced 4900 trucks. Production of L 1500S started same in June of 1941, but was continued till July of 1944 and were produced 4100 trucks.
Wait, Searching MiniArt 35147 for you…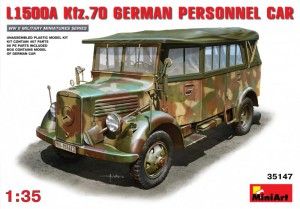 Wait, Searching L1500A for you…
Du kan också se :
Find items about "L1500A" on AliExpress (c):
Visningar : 576
Hitta genom att:
miniart 35147 l1500a
chassis 6x6 mercedes GL
mercedes 1500
KFZ 70 (voiture)
miniart 35147
horch 901 kfz 15
mercedes l1500a kfz 70 walkaround
ドイツ トラック ベンツ1500A
ベンツL1500
MERCEDES BENZ 1500 a
mercedes 1500l
l1500a sdkfz
Kfz 70 MB 1500A miniart build
kfz 70 mb 1500a german 4x4 crew/crew
Kfz 70 Horch
ICM 1/35 L1500 作例
ミニアート L1500
daimler-benz typ l 1500 1941
Daimler-Benz L1500A
35525 l1500 (kfz 70)