Ref
0

7302

Typ
Maquette
Skala
1/48
Sujet

Nakajima KI44 Shoki Prototyp
En nyhet 2012 av varumärket Hasegawa den mock-up : «Nakajima KI44 Shoki Prototype 47th Limited Edition – Hasegawa 07302».
Two Ki-44 prototypes were transferred to the Imperial Japanese Army Air Force in September 1941. The 47th Chutai (Independent Flight Company) was formed to test-fly it. This experimental unit later became the 47th Sentai (Squadron). This limited edition kit features a new resin landing gear cover, a resin spinner, resin landing gear housing panel parts and radiator parts.
Källa: Nakajima KI44 Shoki Prototyp på HasegawaUsa
Wait, Searching Hasegawa 07302 for you…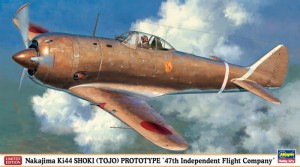 Wait, Searching Nakajima KI44 Shoki Prototype for you…
Du kan också se :
Visningar : 325
Hitta genom att:
ww2 ki43 prototype
1/72 鐘馗
中島 Ki-44 長谷川
shoki prototípusát
prototipo hajabusa mk
nakajima ki-44
nakajima ki 44 shoki maquette forum
nakajima hajate 1-72
nakajima
Ki44-II Otsu Rocket Cannon
ki-44 spinner resin
ki 44 hasegawa
Hasegawa Ki-44 07302
hasegawa 07302
exército_brasileiro>uso do caminhão studebaker us6
1:18 scale dodge wc51 beep
鍾馗プロトタイプ