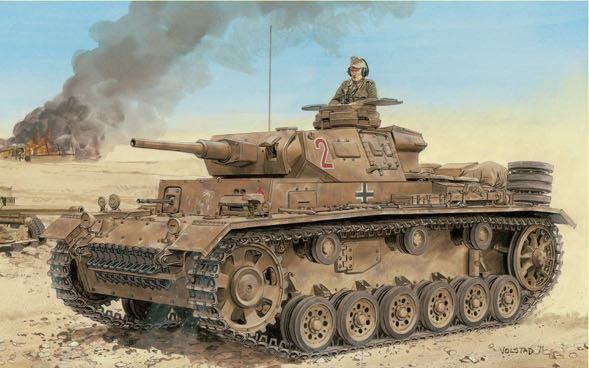 Ref

6642

Typ
Maquette
Echelle
1/35
Beskrivning

Une maquette du Pz.Kpfw.III (5cm) Ausf.H Sd.Kfz.141 Late Production
Une maquette de chez DRAGON Modeller le "Pz.Kpfw.III (5cm) Ausf.H Sd.Kfz.141 Late Production".
Dragon has released a number of fine Panzer III tanks in 1/35 scale before, including the recent Ausf.E (Item No.6631) and Ausf.F (Item No.6632). Now, Dragon has produced the very first Panzer III Smart Kit, and what a stunning creation it is. The Smart Kit depicts an Ausf.H variant, the first Panzer III version to be fitted with a 5cm Kw.K L/42 cannon. An order for 759 Ausf.H tanks was placed in January 1939, but as it turned out, only 308 were produced up till April 1941 before the Ausf.J entered production. To accommodate the bigger gun, the tank turret was redesigned and a turret basket added to the rear. Furthermore, additional armor plates were bolted to the rear, glacis and front superstructure of the hull. Mechanically the tank received a new transmission with redesigned sprocket and idler wheels. This 1/35 scale Smart Kit has a great many brand new parts. For starters the lower hull, rear plate, glacis plate and front superstructure plate are all newly tooled. Add to this a new mantlet with 35mm-thick armor, and a new vision block. For a smoother ride there are newly tooled hydraulic shock absorbers and new 40cm Magic Tracks appropriate to the initial track design. All in all, this kit has been completely overhauled in comparison with earlier Panzer III plastic kit releases. The Smart Kit label ensures it's cleverly engineered for easy assembly thanks to the widespread use of advanced molding techniques. Up-gunned and upgraded, this Panzer III Ausf.H Smart Kit will attract a lot of attention from modelers!
Källa: Dragon 6642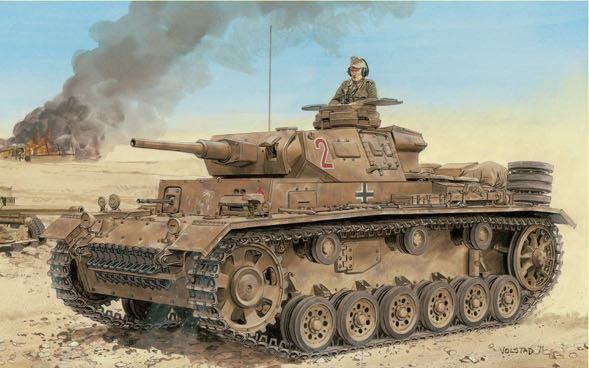 Wait, Searching DRAGON 6642 for you…

Hitta kit på eBay:
Sök på eBay
Sök efter vad du behöver, Vi föreslår detta, men det är du som bestämmer
Find items about "Panzer III" on AliExpresS :
Du kan också se :
Relaterade kit:
Views : 930