Ref.
0

5607

Tip
Komplet modela
Skali

1/350

Tema

USS SARATOGA CV-3
Model brenda Trumpeter komplet: USS SARATOGA CV-3 – Trumpeter 05607.
The kit consists of over 566pcs : Either waterline version or full hull version can be selected.
USS SARATOGA CV-3 Length overall: 270.7m Beam: 32.3m Displacement: 33000 t Saratoga, one of the first fast carriers in the United States Navy, was laid down on 25 September 1920, by the New York Shipbuilding Co., and commissioned on 16 November 1927. When the Japanese struck Pearl Harbor on 7 December 1941, Saratoga was just entering San Diego after an interim dry docking at Bremerton. She hurriedly got underway the following day as the nucleus of a third carrier force. On 11 January 1942, she was hit by a deep-running torpedo fired by the Japanese submarine. As flagship of Real Admiral F. J. Fletcher, Saratoga opened the Guadalcanal assault early on 7 August 1942 when she turned into the wind to launch aircraft. She provided air cover for the landings for the next two days, and take part in all the operations in the Guadalcanal. Saratoga was surplus to postwar requirements, and she was assigned to Operation "Crossroads" at Bikini Atoll to test the effect of the atomic bomb on naval vessels. She was struck from the Navy list on 15 August 1946. Saratoga received seven battle stars for her WWII service.
Source: Trumpeter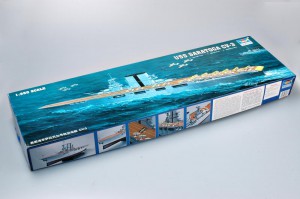 Wait, Searching Trumpeter 05607 for you…

Pronađi komplete na eBay-u:
Pretraga na eBay-u
Tražimo ono što vam treba, predlažemo vam ovo, ali vi ste ti ti koji odlučujete
Možete videti i :
Srodni kompleti:
Views : 976