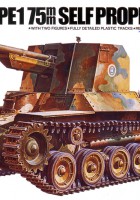 Ref
35095
Vrsta
Lestvica model
Lestvica
1/35
Temo

Japanese Type 1
Model blagovne znamke Tamiya komplet: Japanese Type 1 – Tamiya 35095 .
-Riveted hull details -75mm gun is movable. Gun barrel also enables recoil movement. -Belt type tracks included. -Kit comes with 2 crew figures. The Japanese Type 1 75mm self-propelled gun was the first self-propelled gun developed by the Imperial Japanese Army during WWII. It used the chassis of the successful Type 97 medium tank with the turret replaced by a Type 90 75mm field gun in an open superstructure. Although the prototype was completed in May 1941, production did not begin until the latter half of 1943 as priority was given to aircraft manufacturing during the war. The self-propelled guns were deployed to Mobile Artillery Regiments and first saw action during the Battle of Luzon in the Philippines in 1944. The Tamiya model faithfully captures all the detail in 1/35 scale.
Vir: Tamiya
Počakajte, Iskanje Tamiya 35095 za vas...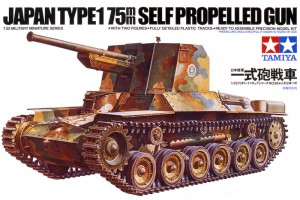 Počakajte, Iskanje Japonski Tip 1 za vas...
Vidite lahko tudi :
Find items about "Japanese tank 1/35" on AliExpress:
Ogledov : 670
Iskanje z:
Lesmaquettesdelamarque:
Lesmaquettesdelamarque:Tamiya
японские линкоры
tamiya imperial japanese army
Ralix Electronic Lighter | Single Arc Flameless Plasma Lighter | Rechargeable | Wind Resistant | Best for Lighting Cigarettes C
Mobiil Tamiya
lotniskowiec japoński
Japanese Type 90 Tank hull tamiya
japan type 1 tamiya
Amodellekam