Predmet

Sd.Kfz.7/2 3.7cm FlaK 36

Lestvica
1/35
Ref

6541
Kit, iz blagovne znamke DRAGON Modeli the "Sd.Kfz.7/2 3.7cm FlaK 36".
Now Dragon introduces an Sd.Kfz.7/2 with the standard non-armored cab. The vehicle features the correct rear firing platform for a 3.7cm Flak 36 cannon. Just like the real vehicle, the rear sides fold down to create a larger fighting platform to depict a combat configuration, or they can be left folded up for travel. The mesh for these side panels and tailgate are made accurately to scale using photo-etched parts. Other parts such as the one-piece cannon barrel with hollow muzzle use slide molds to produce accurately formed shapes. The intricate tracks are Magic Tracks for ultimate ease of use, while the front tires made from DS bear accurate tread patterns. This new 1/35 kit gives modelers an extra option when they plan their next diorama. Indeed, it would be an interesting exercise in itself to gather Dragon's Sd.Kfz.7 clan together to spot the differences between these superb halftrack kits.
Vir: Dragon Modeli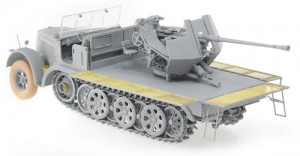 Wait, Searching DRAGON 6541 for you…

Našli kompleti na eBay:
Iskanje na eBay
Iskati tisto, kar potrebujete, priporočamo, da to, vendar to je vas, ki se odločijo,
Find items about "Sd.Kfz.7" on AliExpresS :
Vidite lahko tudi :
Povezani sklopi:
Views : 1082