Dragon Models

Desc

StuG.III Ausf.F/8 Late Production

Scale

1:35r

Code fly

6644
Une maquette de Stug.III signée DRAGON Models le "StuG.III Ausf.F/8 Late Production w/winter track".
Canon d'assault Sturmgeschütz III (StuG III) fut le véhicule blindé de combat produit au plus grand nombre d'exemplaires par l'Allemagne au cours de la Seconde Guerre mondiale. Il était construit sur le châssis du char Panzer III. Conçu au départ comme un canon léger blindé destiné à soutenir l'infanterie, le StuG fut continuellement modifié et fut largement employé comme chasseur de chars. La série des Sturmgeschütz est reconnue pour son excellent rapport prix/qualité. À la fin de la guerre, plus de 10 500 avaient été construits.
Kilde: StuG.III sur Wikipedia
Wait, Searching DRAGON 6644 for you…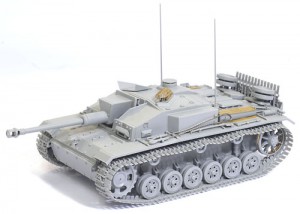 Wait, Searching StuG.III Ausf.F/8 for you…

A Sturmgeschütz concealed behind a heap of straw in the yard of a farm in Russia
SdKfz 142-1 StuG III Ausf G 1
"Sturmgeshutz" destroyed
StuH 42
Early StuG iii retrofitted with Schurzen
"Stug" atypical muzzle brake on the howitzer leFH 18.
Relaterte kits:
Finn sett på eBay:
Søk på eBay
Søk etter hva du trenger, Vi foreslår dette, men det er du som bestemmer
Du kan se også :
StuG.III Ausf.F/8 Late Production – DRAGON 6644

fra NetMaquettes
Views : 1772