Dragon Modellen

Sujet
:

Pz.Kpfw.III Ausf.N w/Winterketten s.Pz.Abt.502

Echelle
:
1/35
Réf
:

6606
Une maquette de chez DRAGON Modellen le "Pz.Kpfw.III Ausf.N w/Winterketten s.Pz.Abt.502 Leningrad 1943".
Dragon's new kit uses recently released 1/35 scale Panzer III models as a foundation, and it incorporates all the essential features of this final-production Panzer III type. There is wide utilization of slide-mold technology – the one-piece turret made from a three-directional slide mold is one example, and even the rifling inside the gun barrel is included. Plus there are multimedia parts such as photo-etched metal for the grills on the air intakes. One further thing that sets this Panzer III apart is the inclusion of winterketten (winter tracks). In fact this is the first time winter tracks have been produced as Magic Tracks. This means modelers can easily and conveniently equip their Panzer III with these special tracks for a winter setting. Although this tank is specifically meant to depict one from s.Pz.Abt.502, modelers will find it hugely versatile in its application. For those seeking a companion for their Tiger, or simply wanting a stunning standalone model, this Panzer III is a must-have!
Bron: Draak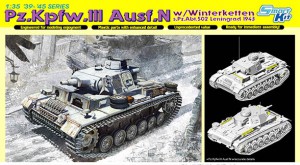 Wait, Searching DRAGON 6606 for you…

Pakketten vinden op eBay:
Zoeken op eBay
Zoeken naar wat je nodig hebt, raden We dit maar het is u die besluiten
Je kunt ook zien :
Verwante kits:
Views : 763