Boeing CH-47 Chinook

Paese
USA
Ruolo

Transport helicopter

Prodotto

1962–present

Numero di costruito

1200+
Il Boeing CH-47 Chinook is an American twin-engine, tandem rotor heavy-lift helicopter. Its primary roles are troop movement, artillery placement and battlefield resupply. It has a wide loading ramp at the rear of the fuselage and three external ventral cargo hooks. With a top speed of 170 knots (196 mph, 315 km/h) the helicopter was faster than contemporary 1960s utility helicopters and attack helicopters, and is still one of the fastest helicopters in the US inventory. The CH-47 is among the heaviest lifting Western helicopters. Its name is from the Native American Chinook people.
Wait, Searching Boeing CH-47 Chinook photos for you…

Boeing CH-47D Walk Around

Fotografo
Meindert de Vreeze
Posizione
Unknow
Foto

228
Wait, Searching Boeing CH-47 Chinook for you…

Boeing CH-47F Walk Around

Fotografo
Unknow
Posizione
Unknow
Foto
40
Correlati kit: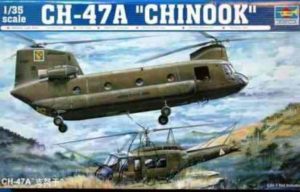 Boeing Vertol CH-47A Chinook
Il trombettista
1:35
Kit completo
Clicca per la Ricerca
Boeing CH-47F Chinook Walk Around

Fotografo
Vladimir Yakubov
Posizione

Hiller Aviation Museum, San Carlos

Foto
165
Trovare i kit su eBay:
Cerca su eBay
Ricerca di che cosa avete bisogno, Noi suggeriscono questo, ma sta a voi decidere
You can see also :
Boeing CH-47D Walk Around

Fotografo
Randy Ray
Posizione

Vertical Challenge 2010 Air Show

Foto
47
Boeing CH-47 Chinook – Camminare Intorno da NetMaquettes
Views : 2557