Ref
804
Type
Camion de Modèle de voiture
L'échelle
1/35
Sujet

KrAZ-214B
Au cours de la seconde GUERRE mondiale sous les termes de la de crédit-Bail, à l'exception de milliers de la bien connue 'Studebakers', a limited number of Diamond and White heavy ballast tractors appeared in the USSR. These trucks made a great impression on the Soviet military, because the ZIS-5 and GAZ-AA, which Soviet industry had been producing since the pre-war period, could not compare with the American vehicles, which were able to haul a trailer loaded even with heavy tanks. Immediately after the end of the war the Yaroslavl motor works, which had previously produced YAG-6 trucks in very small quantities, received an order to develop a new truck. So in 1947 appeared the YAZ-200, the first Soviet truck with a fourteen-cylinder diesel engine, and a year later, the YAZ-210 with a more powerful six-cylinder YAZ-206 diesel. These trucks began to figure in the inventory of the Soviet Army; however, the Army had need of a truck with much better characteristics, especially taking into consideration cross country ability…..
Source: KrAZ-214B on Roden
Attendez, la Recherche Roden 804 pour vous...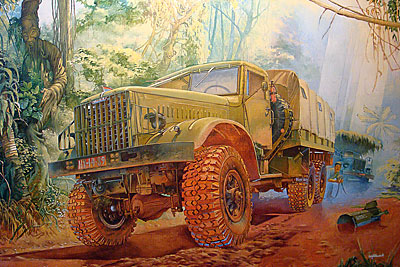 Attendez, la Recherche KrAZ-214B pour vous...
Vous pouvez voir aussi :
Vues : 334
Rechercher par:
roden kraz
804 1/35 KrAZ-214B
roden
Squadron Signal 5718 GMC CCKW Truck Walk Around
Roden-zh
КрАЗ 214
декали авто
yaz-210 トラック
1/35 kraz-214b
Roden 804 LKW KrAZ-214B
roden 804
KrAZ-214B Heavy Track by Roden
KrAZ-214B
роден краз 214