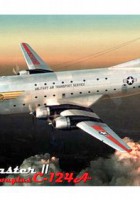 Ref
306
Tyyppi

Transport airplane

Asteikko
1/144

Subject>

Douglas C-124A Globemaster II
Yk: n malli brändin Roden pakki : «Sd.Kfz. 4/1 Panzerwerfer 42 late – Roden 714».
Sen C-124 Globemaster was a large American transport airplane of 1949 developed by the Douglas aircraft company from its predecessor the С-74. The С-124 was the largest transport aircraft in the world at that time and carried out important missions moving American troops to various corners of the world. Apart from military service, airplanes of this type were also used for the delivery of scientific expeditions to the Antarctic continent. The С-124 was used by the United States Air Force Military Air Transport Service up to the mid 1960's, and US Air National Guard units used them until 1974. On the whole 448 machines of this type were produced.
Lähde: Douglas C-124A on Roden
Wait, Searching Roden 306 for you…
Wait, Searching Globemaster for you…
Näet myös :
Find items about "Globemaster plane" on AliExpress (c):
Näkymät : 539
Löytää:
Roden C-124A
1 144 roden globemaster
globemaster douglas c-124a model kit
c124グローブマスター
ダグラスC-124グローブマスターⅡ
ローデンC124グローブマスター
roden c124 globemaster review
roden c124
roden c-124 review
roden c-124 kit
Roden C-124 1/144
reviews of Roden C-124
review 1/144 roden c-124
images of c-124 globemaster kit roden
c-124 roden
douglas globemaster 1
douglas C124A
douglas c-74 globemaster 1
DOUGLAS C-124a
douglas c 124 roden