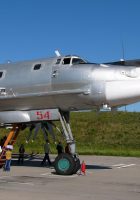 Tupolev Tu-95MS Karu

Riik
Nõukogude Liidu
Tüüp
Strateegiline pommitaja
Fotograaf

Boris Vasiljev

Kirjeldus

Album

36

photos walk-around of a «Tupolev Tu-95MS Bear»
Pildigalerii a Tupolev Tu-95MS Karu, The Tupolev Tu-95 (Russian: Туполев Ту-95; NATO reporting name: "Bear") is a large, four-engine turboprop-powered strategic bomber and missile platform. First flown in 1952, the Tu-95 entered service with the Soviet Union in 1956 and is expected to serve the Russian Air Force until at least 2040.[1] A development of the bomber for maritime patrol is designated Tu-142, while a passenger airliner derivative was called Tu-114.
Allikas: Tupolev Tu-95MS Bear on Wiki
Wait, Searching Tupolev Tu-95MS Bear photos for you…
Wait, Searching Tupolev Tu-95MS Bear for you…
Näete ka :
Find items about "Tupolev Tu-95MS Bear" on AliExpress (c):
Vaatamisi : 1397
Leida:
tupolev bear
tupolev tu-95ms bear
tupolew tu-95 ms