ICM

Skala
1/35
Ref
35702
Thema

76,2 mm F-22 Soviet Divisional Gun
Ein Modell der Marke ICM : das kit 76,2 mm F-22 WWII Soviet Divisional Gun – ICM 35702 .
72,6 mm divisional gun F-22 was designed in KB-92 under V.G. Grabin control and adopted by Red Army in 1936. There were produced 2932 guns F-22. This gun had good ballistic characteristics, but vas too heavy and complicate for the mass productions. In 1941-1942 the large amount of F-22 guns was captured by German army. Highly detailed mounting, cradle and laying mechanisms. Possibility of assembling in combat or transport variants.
Quelle: 76,2 mm F-22 on ICM
Warten Sie, Suche ICM 35702 für Sie...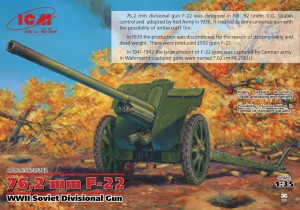 Wait, Searching 76,2 mm F-22 for you…

Finden kits auf eBay:
Suche auf eBay
Suche für das, was Sie benötigen, Wir empfehlen dies, aber es ist Ihr, die entscheiden
Sie können siehe auch :
Views : 633