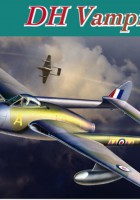 Ref
5085
Geben
Modell
Skala
1/72
Thema

DH Vampire FB.5
Ein kit der Marke
Cyber-Hobby
das kit :
«DH Vampire FB.5 – Cyber-Hobby-5085»
.
Feature:
Authentic Vampire FB.5 produced
Twin-boom tail made by slide-mold technology
Air intakes accurately represented
Intricate landing-gear bays included
Realistic jet exhausts reproduced
Intricate fuselage for Vampire FB.5
Fuselage possesses metal-skinned appearance
Crystal-clear canopy can be assembled open/closed
Cockpit interior details including control panel and a single seat
500lb bombs fitted beneath fuselage
Landing gear be assembled in either flying or taxiing positions
Cyber-Hobby weiter zu beeindrucken mit seiner neuesten 1/72 scale release – dieses mal eine de Havilland Vampire FB.5. Das britische Flugzeug wurde die RAF zweite überhaupt jet-fighter (die erste ist die Gloster Meteor). Obwohl er zu spät kam, um zu sehen, WWII Kampf, diente es in frontline-squadrons der Royal Air Force (RAF) bis 1953 und als Trainings-Plattform bis 1966. Einige 3,268 Vampire wurden gebaut und Sie wurden durch die 31 Luft-Streitkräfte. Die zahlenmäßig häufigsten einsitzige Variante war die FB.5, mit der Art gebaut, Großbritannien, Südafrika und Venezuela. Die FB.5 vorgestellten eine Goblin-II-turbojet-Motor mit gepanzerten Schutz. Zusätzlich wurden die Flügel gekürzt von 30cm und das Fahrwerk erhielt einen längeren Hub zu ermöglichen größer Start GEWICHTE und mehr Freiraum für unter-Flügel-Munition. Auf dem Höhepunkt der RAF flogen 19 Staffeln der FB.5s in Europa, dem Mittleren Osten und dem Fernen Osten. Es beteiligte sich an der malaiischen Notfall, zum Beispiel.
Quelle: DH Vampire FB.5 auf Cybber-Hobby
Warten Sie, Suche Cyber-Hobby 5085 für Sie...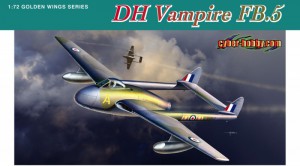 Warten Sie, Suche DH Vampir für Sie...
You can see also :
Views : 250
Find by:
cyber hobby vampire
cyber-hobby maquette militaire 9133 german super tank maus 1/35
cyber hobby sea king review
cyber-hobby 6286 1/35 Tiger I (DAK)
cyber hobby dragon big joe
Cyber Hobby D H Vampire
cyber hobby 9133 review
trumpeter dh vampire
dragon Vampire FB 5
doragon armar 60143
cyber-hobby sea venom
サイバーホビー 5085
cyber-hobby vampire
cyber-hobby 5085 dh vampire
cyber hobby sea venom
cyber hobby richie
cyber hobby meteor review
cyber hobby 1/72 westland sea king
5096 1/72 sea venom faw 21
1/72 scale sea venom cockpit interior