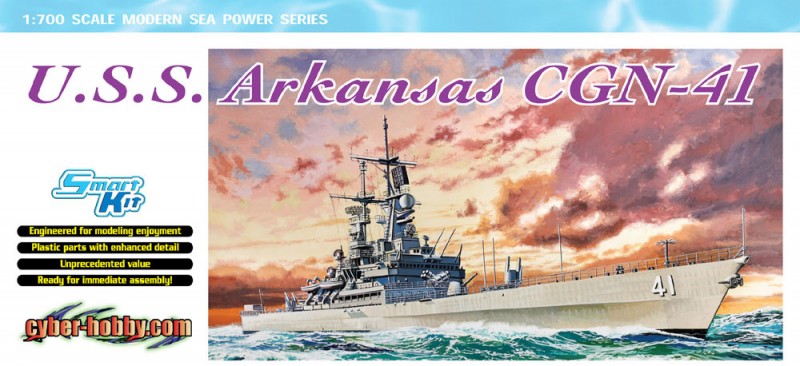 Ref
7124
Topic
1/700 Warships
Scale
1/700
Sujet

U.S.S. Arkansas CGN-41
A model of the brand Cyber-Hobby the kit : U.S.S. Arkansas CGN-41 – Cyber-Hobby 7124.
Features: -Waterline or full-hull version can be assembled -One-piece slide-molded upper hull w/undercut details realistically represented -Sponsons are represented on lower hull by slide-mold technology -True-to-scale propellers reproduced -Rudder reproduced like the real one -Masts, radar and antenna parts are represented by photo-etched parts w/realistic details -Intricate bridge is made from 3-directional slide-mold technology -Mk-141 Harpoon missile launchers accurately produced w/fine detail -Additional stowage boxes included -Radar dishes possess well-defined detail -Armored box launchers for Tomahawk missile -Two twin Mk26 missile launchers in great detail -Open-topped upper-mount 5-inch Mk-45 lightweight guns -Extremely fine detailed parts like whalers -Life rafts w/crisp details -Extra-fine detail on superstructure walls like hose and ladder patterns delicately reproduced
Wait, Searching Cyber-Hobby 7124 for you…

Find kits on eBay:
Search on eBay

Search for what you need, We suggest this but it is you who decide

...
Related kits:
Views : 607